Spoopathon is a brand new readathon and sound like a lot of fun.
The premise is that you are escaping from a haunted house. As well as working your way across the grid, each book earns you points and you'll need these points to continue, opening doors or defeating ghosts.
I'm hoping to make it all the way out of the house, and here's the path I'll be trying.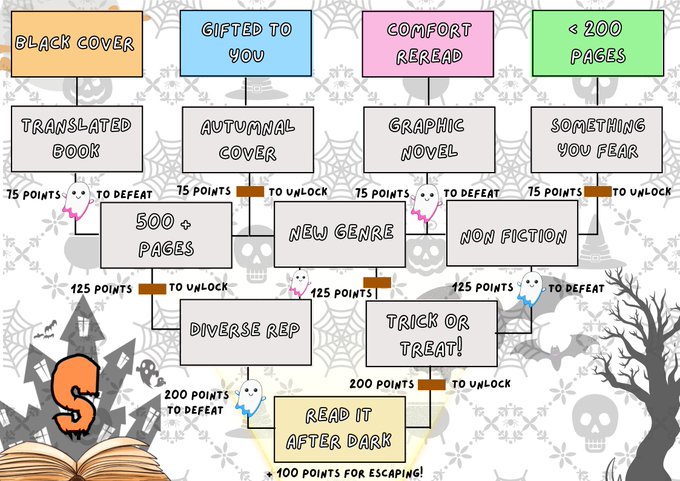 Comfort Reread
HellBlazer: High Water by by Brian Azzarello, Marcelo Frusín, Giuseppe Camuncoli & Cameron Stewart
It's been a long time since I read the HellBlazer comics but I loved them (back when they were Vertigo and a lot more adult). This is definitely a horror-y GN series, so I think it'll be a great Halloween choice, and it's one I've been hankering to revisit. The prison storyline is one I remember as being particularly good? [25 prompt points plus 50 spooky book bonus points = 75].
Graphic Novel
The Sad Ghost Club by Liz Meddings
I'm not actually sure what this is about, my library recommended it. It's a story of a sad ghost struggling with anxiety and depression. I'm interested in seeing the mental health rep. [25 prompt points plus 50 spooky book bonus points/ Total = 150]
New Genre
Black Amber by Phyllis A Whitney
Romantic Suspense isn't something I thought I liked, but I've read two Phyllis Whitney books and really enjoyed the overdramatics, so I'm keen to try another. This one is set in Turkey, which shoulf be interesting. [25 prompt points / Total = 175]
Diverse Rep
Under the Whispering Door by TJ Klune
This one's a m/m romance. [25 prompt points plus 50 diverse bonus points and 50 spooky bonus points/ Total = 300].
Read It After Dark
Cream Buns and Crime by Robin Stevens
I taken a liking to listening to audiobooks just before bed recently, so I'll be continuing this series. [25 prompt points plus 50 team colour bonus points/ Total = 375].