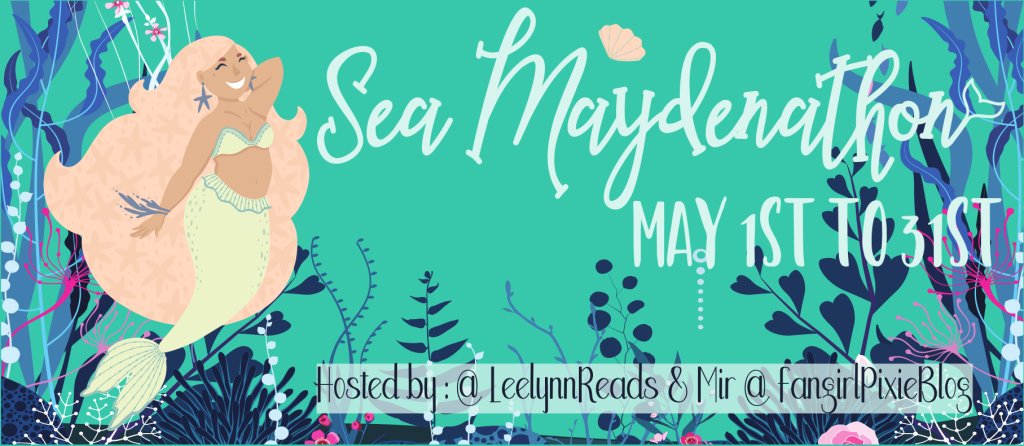 From Leelyn's Announcement post here:
Hey fam! So you know how I'm like obsessed with mermaids and stuff? And you know how I was curious about whether there were any mermaid readathons that I could jump on? Well, I did see some and I'm definitely going to join them.

And then my amazing friend Mir @ Fangirl Pixie Blog said that she was interested in hosting our very own readathon because she's into mermaids and sea creatures too, and omg the rest is history!
TEAM ALOSA GROUP BOOK
Daughter of the Pirate King (Daughter of the Pirate King, #1)by Tricia Levenseller
MERMAID KISSES, STARFISH WISHES: Read a Book with a Sapphic Romance
Witches of Ash and Ruin by E. Latimer
SHIPWRECK: Read a Dystopian Story
The Fifth Season (The Broken Earth #1) by N.K. Jemisin
The House of the Scorpion (Matteo Alacran #1) by Nancy Farmer 
Both Jorie and Leelyn made suggestions for this prompt, which I really appreciated, but then I remembered that I already own both of these. Since dystopian isn't my favourite genre, I'm listing both and see which I get a feel for.
SIREN'S CALL: Read a Book Out Loud (at Least a Chapter)
The Consumption of Magic by T.J. Klune
These books are hilarious so this should be a laugh to read aloud
WE MERMAID TO BE FRIENDS: Read a Book Recommended by a Friend
Crimson Bound by Rosamund Hodge
I've had a few people recommend this one to me actually. Apparently, since it's a fairytale retelling, and I liked Hodge's Cruel Beauty, it should be slamdunk.
BEACH PLEASE: Read a Summer Beach Read
Death and Daisies (A Magic Garden Mystery #2) by Amanda Flower
RELEASE THE KRAKEN: Read an Intimidating Book You've Been Putting Off
Titus Groan (Gormenghast, #1) by Mervyn Peake
I GOT WHOSITS AND WHATSITS GALORE: Read a Book that's Been on Your TBR Forever
Swordheart by T. Kingfisher
UNDER THE SEA: Read a Book With A Magical Kingdom
The Goblin Emperor (The Goblin Emperor, #1) by Katherine Addison
This is a reread for me and I'll be joining in with the Wyrd & Wonder Readalong.
FIND YOUR VOICE: Read an #OwnVoices Book
The Order of the Pure Moon Reflected in Water by Zen Cho
SEA SALT: Read a Real Tearjerker
Sky Without Stars (System Divine #1) by Jessica Brody (Goodreads Author), Joanne Rendell
Thanks Leelyn for suggesting this one to me!