This readathon is being hosted by @JeansThoughts and @TheBookNeuk.
I'd never heard of #FemmeFanTale before, but I'm really excited to join in with this round and focus on some of the many female fantasy authors on my TBR.
The readathon runs from March 8th-15th, but since these are all on my TBR for this month already, I'll just see what I can get through in these 8 days. I'm not going to try for all 12 prompts (I'm missing out Middle Grade and Non-Human Protagonist but I hope to grab at least a couple of bingo's, especially as doubling up is allowed.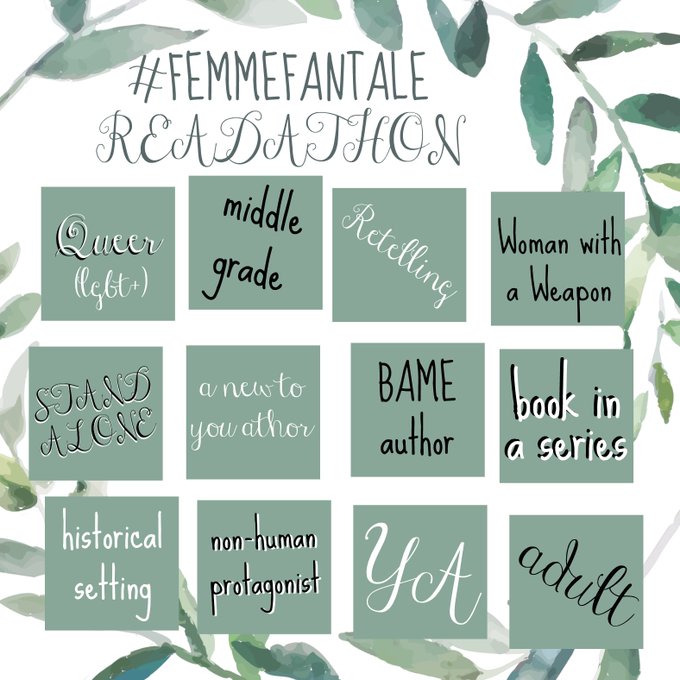 QUEER: The Winter Duke by Claire Eliza Bartlett
RETELLING: Dorothy in the Land of Monsters by Garten Gevedon
WOMAN WITH A WEAPON: Competence by Gail Carriger
ADULT & STANDALONE: The Priory of the Orange Tree by Samantha Shannon
A NEW-TO-YOU AUTHOR & BAME AUTHOR: The Empress of Salt and Fortune by Nghi Vo
BOOK IN A SERIES: Nightvine (The Gardener's Hand #2) by Felicia Davin
HISTORICAL SETTING: In the Labyrinth of Drakes by Marie Brennan
YA: Ember Queen (Ash Princess #3) by Laura Sebastian
Check out my other TBRs for this month (multi-tasking and overlapping ftw!): Hamilthon Round 2 and Simsathon Round 3.