It was on Halloween in 1693 that Winifred, Sarah, and Mary Sanderson stole the spirit of
young Emily Binx. Taking their revenge, the town of Salem hanged the three witches.
Before the Sanderson sisters took their last breath, their magic book had cast a curse that
the sisters would return on All Hallow's Eve on a full moon when a virgin lights the black flame candle…
It's simple. Join a team. Fight for victory.
Survive the night.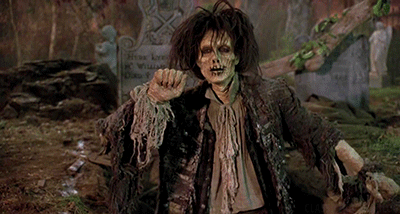 For all the information, prompts and teams involved in the readathon check out the Twitter account @HPocusReadathon.
There are three teams for this readathon: Sanderson Sisters, Undead and Trick or Treaters. Since Binx and Billy were always my favourite characters, I'll be playing on Team Undead.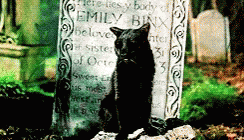 Prompts are specific to teams, so for Team Undead I'll be reading:
Zombies, graveyards, and cats. Oh my! Read a book with a non-human main character.
Once Broken Faith by Seanan McGuire
Toby's a changeling, which means she's half-human and half-fae. I think that counts.
The cemetery is especially spooky on Halloween night. Read a spooky, atmospheric book.
New Orleans, vampires and a seriously Anne Rice-y cover? I'm betting this will be really atmospheric!
Winifred Sanderson raises you from the dead. Read a book that can bring someone back from the grave.
Into The Crooked Place by Alexandra Christo
This is one I've been anticipating for months! I reckon I'd crawl out of my grave to get my hands on it.
Catch those kids, but don't lose your head! Read a random book from your TBR list.
All the Ever Afters: The Untold Story of Cinderella's Stepmother by Danielle Teller
I bought this one at YALC. I don't know anything about it, but I love retellings so…
Not all of the undead are monsters. Read a book with paranormal or supernatural elements.
I'm using the Undead Team strength for this prompt:
You collect your fingers and find that they're holding onto another team's prompt. You can switch ONE prompt with another team's.
I'm switching to a prompt from Team Sanderson Sisters.
The Sanderson Sisters have risen. Read a book with a female protagonist
The Wendy by Erin Michelle Sky and Steven Brown
This has been on my TBR for a while and since there's a sequel, The Navigator, out soon (and I have ARCs sitting for both) I really want to read it now.