I love sitting in my local coffee shop, a latte in one hand and a book in the other. Depending on the time of day, there's sometimes something sweet on the table too. I love books full of delicious foodie descriptions — even when they make me hungry! Even better if I can find myself something similar to snack on!
So here's six books where a tea, coffee or cake play an important role, and would be perfect for curling up with, with a cuppa and a treat at your side.
Do you snack while you read? What are your book/eating combo habits?
Deadly Sweet (The Spellwork Syndicate #1) by Lola Dodge
Anise Wise loves three things: baking, potion making, and reading her spellbooks in blissful silence. She might not be the most powerful witch, but enchantment is a rare skill, and her ability to bake with magic is even rarer. Too bad no one wants witchcraft on their campus. Anise's dream of attending pastry school crumbles with rejection letter after rejection letter.
Desperate to escape her dead-end future, Anise contacts the long-lost relative she's not supposed to know about. Great Aunt Agatha owns the only magic bakery in the US, and she suddenly needs a new apprentice. Anise is so excited she books it to New Mexico without thinking to ask what happened to the last girl.
The Spellwork Syndicate rules the local witches in Taos, but as "accidents" turn into full-out attacks on Anise's life, their promises to keep her safe are less and less reassuring. Her cranky bodyguard is doing his best, but it's hard to fight back when she has no idea who's the enemy. Or why she became their target.
If Anise can't find and stop whoever wants her dead, she'll be more toasted than a crème brûlée.
Who knew baking cakes could be so life or death?
The Confectioner's Guild (The Confectioner Chronicles #1) by Claire Luana
Wren knew her sweet treats could work wonders, but she never knew they could work magic. She barely has time to wrap her head around the stunning revelation when the head of the prestigious Confectioner's Guild falls down dead before her. Poisoned by her cupcake. 
Now facing murder charges in a magical world she doesn't understand, Wren must discover who framed her or face the headsman's axe. With the help of a handsome inspector and several new friends, Wren just might manage to learn the ropes, master her new powers, and find out who framed her. But when their search for clues leads to a deep-rooted conspiracy that goes all the way to the top, she realizes that the guild master isn't the only one at risk of death by chocolate. 
If Wren can't bring the powerful culprit to justice, she and her friends will meet a bittersweet end.
The Tea Master and the Detective (The Universe of Xuya) by Aliette de Bodard
Welcome to the Scattered Pearls Belt, a collection of ring habitats and orbitals ruled by exiled human scholars and powerful families, and held together by living mindships who carry people and freight between the stars. In this fluid society, human and mindship avatars mingle in corridors and in function rooms, and physical and virtual realities overlap, the appareance of environments easily modified and adapted to interlocutors or current mood.
A transport ship discharged from military service after a traumatic injury, The Shadow's Child now ekes out a precarious living as a brewer of mind-altering drugs for the comfort of space-travellers. Meanwhile, abrasive and eccentric scholar Long Chau wants to find a corpse for a scientific study. When Long Chau walks into her office, The Shadow's Child expects an unpleasant but easy assignment. When the corpse turns out to have been murdered, Long Chau feels compelled to investigate, dragging The Shadow's Child with her. 
As they dig deep into the victim's past, The Shadow's Child realises that the investigation points to Long Chau's own murky past–and, ultimately, to the dark and unbearable void that lies between the stars…
Coffee Boy by Austin Chant
After graduation, Kieran expected to go straight into a career of flipping burgers—only to be offered the internship of his dreams at a political campaign. But the pressure of being an out trans man in the workplace quickly sucks the joy out of things, as does Seth, the humorless campaign strategist who watches his every move.
Soon, the only upside to the job is that Seth has a painful crush on their painfully straight boss, and Kieran has a front row seat to the drama. But when Seth proves to be as respectful and supportive as he is prickly, Kieran develops an awkward crush of his own—one which Seth is far too prim and proper to ever reciprocate.
The Cybernetic Tea Shop by Meredith Katz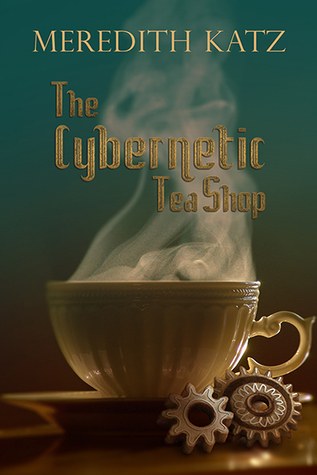 Clara Gutierrez is a highly-skilled technician specializing in the popular 'Raise' AI companions. Her childhood in a migrant worker family has left her uncomfortable with lingering in any one place, so she sticks around just long enough to replenish her funds before she moves on, her only constant companion Joanie, a fierce, energetic Raise hummingbird.
Sal is a fully autonomous robot, the creation of which was declared illegal ages earlier due to ethical concerns. She is older than the law, however, at best out of place in society and at worst hated. Her old master is long dead, but she continues to run the tea shop her master had owned, lost in memories of the past, slowly breaking down, and aiming to fulfill her master's dream for the shop.
When Clara stops by Sal's shop for lunch, she doesn't expect to find a real robot there, let alone one who might need her help. But as they begin to spend time together and learn more about each other, they both start to wrestle with the concept of moving on…
The Tea Dragon Society by Katie O'Neill
From the award-winning author of Princess Princess Ever Aftercomes The Tea Dragon Society, a charming all-ages book that follows the story of Greta, a blacksmith apprentice, and the people she meets as she becomes entwined in the enchanting world of tea dragons. 
After discovering a lost tea dragon in the marketplace, Greta learns about the dying art form of tea dragon care-taking from the kind tea shop owners, Hesekiel and Erik. As she befriends them and their shy ward, Minette, Greta sees how the craft enriches their lives—and eventually her own.