From Amanda Flower's article What Exactly is a Cozy Mystery? in Publishers Weekly:
"An amateur sleuth, an unsuspecting victim, a quirky supporting cast, and trail of clues and red herrings are the main ingredients of a cozy mystery. The term "cozy" was coined in the late 20th century, and in the late 1990s, when I was in high school, I was reading and loving cozies before I knew that was what they were called. I fell in love with the small town stories in which an average person, like me, could solve a crime and bring justice to a family after a murder. The cozy lesson is an average person can make a difference. It doesn't matter if the protagonist is a knitter, a librarian, or a gardener—that person can solve a murder."
These are all the first books in the series, so there's no spoilers. Let me know if you've read any and what you think. Do you have any suggestions for cozy books, series or authors I should add to my TBR?
The Ghost Wore Yellow Socks (The Ghost Wore Yellow Socks, #1)
by Josh Lanyon
There's a dead body in Perry Foster's bathtub. A dead body in a very ugly sportscoat and matching socks. The dead man is a stranger to Perry, but that's not much of a comfort; how did a strange dead man get in a locked flat at the isolated Alton Estate in the wilds of the "Northeast Kingdom" of Vermont? Perry flees downstairs to get help and runs into "tall, dark and hostile" former navy SEAL Nick Reno.
Reno doesn't have a lot of time for drama queens, but, convinced that Perry's jitters are based on something more than caffeine overdose, he heads upstairs to investigate. By then the body has disappeared. If there's one thing Nick has learned the hard way, it's to mind his own business. But Perry Foster doesn't believe in ghosts and isn't willing to let sleeping dead men lie. And Nick just can't convince himself to walk when it's becoming increasingly obvious someone wants the sexy young artist out of the way — permanently.
A Crafter Knits a Clue (A Handcrafted Mystery #1) by Holly Quinn
When a heartbroken Samantha "Sammy" Kane returns to her hometown of Heartsford, WI, for her best friend Kate's funeral, she learns that Kate's much-loved craft store is in danger of perishing with its owner. Confounding all her expectations of the life she would live, Sammy moves back home with her golden retriever and takes over Community Craft. A few doors down Main Street, fellow new arrival Ingrid Wilson has just opened the Yarn Barn, a real "purl" of a shop. But when Sammy strolls over to see if Ingrid could use a little help, she finds Ingrid's dead body—with a green aluminum knitting needle lodged in her throat.
Detective Liam Nash is thrown for a loop as every single citizen of Heartsford seems to have a theory about Ingrid's murder. And nearly everyone in town seems to be a suspect. But the last time Sammy did any sleuthing was as a little moppet. And this is not fun and games. Sammy is eager to help the handsome Liam—who seems to be endlessly inventive in finding reasons to talk with her—and when Liam arrests affable woodworker Miles Danbury, Sammy puts everything on the line to help clear Miles.
As the case comes dangerously close to unraveling, Sammy must stitch the clues together. But the killer has other plans—and if Sammy's not careful, she may wind up in a perilous knot in A Crafter Knits a Clue, the first warm and woolly yarn of Holly Quinn's new Handcrafted mysteries.
A Potion to Die For (Magic Potion Mystery #1) by Heather Blake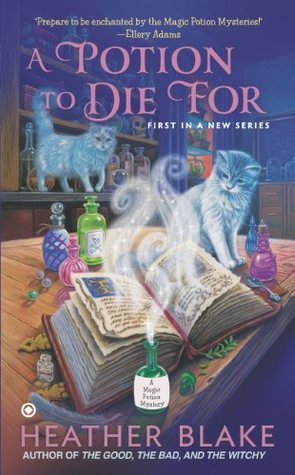 As the owner of Little Shop of Potions, a magic potion shop specializing in love potions, Carly Bell Hartwell finds her product more in demand than ever. A local soothsayer has predicted that a couple in town will soon divorce—and now it seems every married person in Hitching Post, Alabama, wants a little extra matrimonial magic to make sure they stay hitched.
But when Carly finds a dead man in her shop, clutching one of her potion bottles, she goes from most popular potion person to public enemy number one. In no time the murder investigation becomes a witch hunt—literally! Now Carly is going to need to brew up some serious sleuthing skills to clear her name and find the real killer—before the whole town becomes convinced her potions really are to die for!
Never the Bride (Brenda & Effie Mystery #1) by Paul Magrs
Brenda has had a long and eventful life and she has come to Whitby to run a B&B in search of some peace and quiet. She and her best friend Effie like nothing better than going out for tea at the Walrus and the Carpenter or dinner at Cod Almighty and keeping their eyes open for any of the mysterious goings on in town. And what with satanic beauty salons, more than illegal aliens, roving psychic investigators and the frankly terrifying owner of the Christmas Hotel there are no shortage of nefarious shenanigans to keep them interested. But the oddest thing in Whitby may well be Brenda herself. With her terrible scars, her strange lack of a surname or the fact that she takes two different shoe sizes, Brenda should have known that people as, well, unique as she is, just aren't destined for a quiet life.
Cherry Pie or Die (Baker Street Mystery #1) by CeeCee James
After a traumatic life event, Georgie Tanner returns to her hometown to start her life over… at 31 years old. Add sporadic memory loss to the mix and Georgie is a certified hot mess.
Luckily, Aunt Cecelia is there with a job for Georgie. She might not feel able to take on the world, but she's think she's up for taking tourists through Gainesville, Pennsylvania's historic downtown. The place is as American as apple pie, steeped in rich Revolutionary history, Amish settlements, ghost stories, and colonial manors. Georgie knew it was a safe place to go to piece back her memories.
After all, what could go wrong in a sleepy town like this?
Until she leads a group of tourists through the Three Maidens' Manor, a battle site converted into a museum. When the power goes out during the tour, Georgie thinks it's a crazy fluke. But when it returns, she has six panicked guests, and a dead man in her midst.
Who would want to kill him? And more importantly, which one of them was the murderer?