August 6: Cover Redesigns I Loved/Hated (submitted by Rachelle @ Shell's Stories)
I'll be honest, I don't really notice cover redesigns all that often. I usually only have the on I own/ am looking at in my head. I think these are redesigns but I'm not 100% sure, I've tried not to include any which are just international variations.
I'm sure there are far more redesigns I'd love or hate if I remembered them, tell me your favourites (or least fave) and I'll check them out and let you know!
Anyway, here are four redesigns I love.
The Grisha Trilogy (Shadow and Bone, Siege and Storm, Ruin and Rising) by Leigh Bardugo
Surrounded by enemies, the once-great nation of Ravka has been torn in two by the Shadow Fold, a swath of near impenetrable darkness crawling with monsters who feast on human flesh. Now its fate may rest on the shoulders of one lonely refugee.
Alina Starkov has never been good at anything. But when her regiment is attacked on the Fold and her best friend is brutally injured, Alina reveals a dormant power that saves his life—a power that could be the key to setting her war-ravaged country free. Wrenched from everything she knows, Alina is whisked away to the royal court to be trained as a member of the Grisha, the magical elite led by the mysterious Darkling.
Yet nothing in this lavish world is what it seems. With darkness looming and an entire kingdom depending on her untamed power, Alina will have to confront the secrets of the Grisha . . . and the secrets of her heart.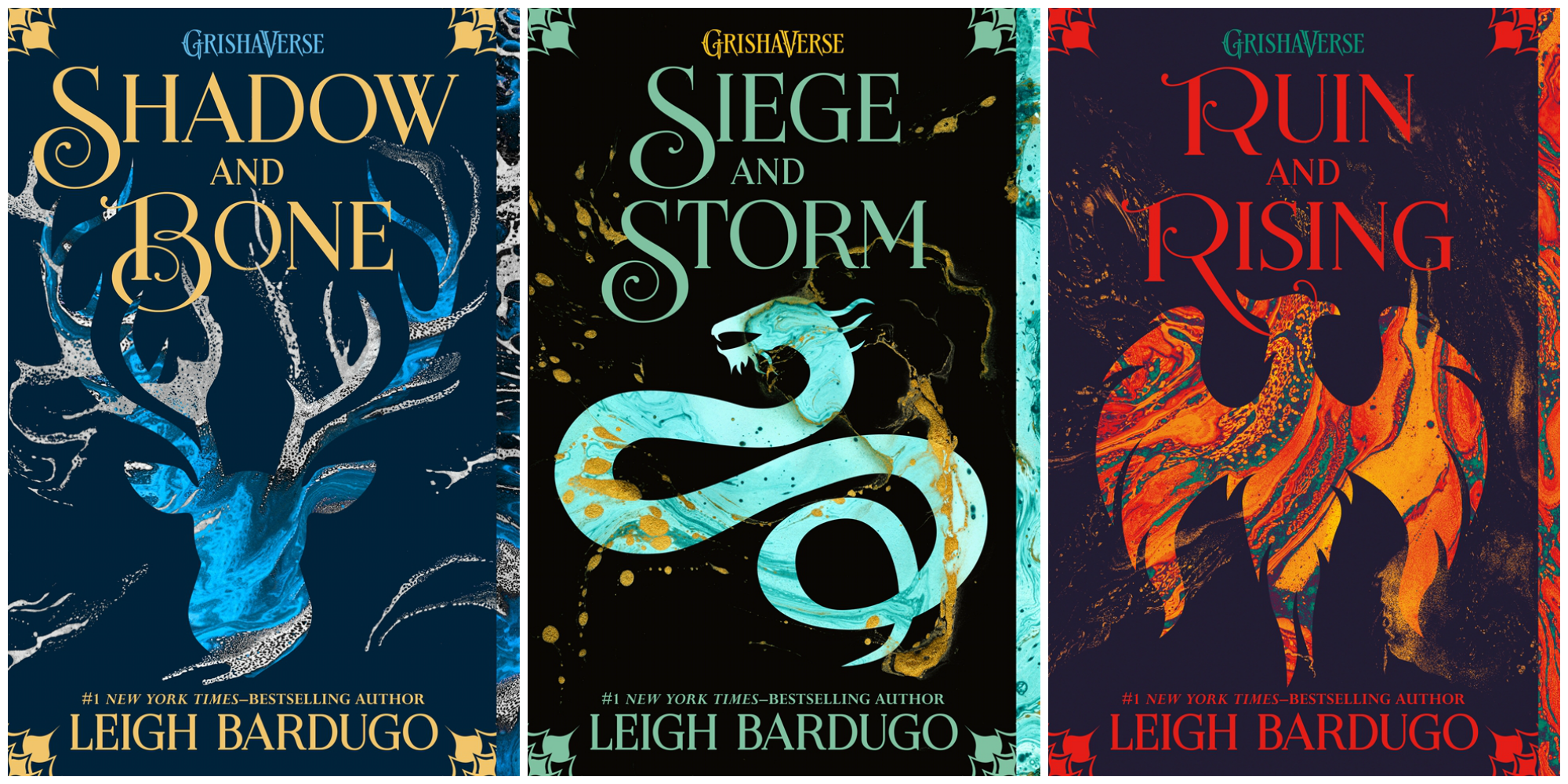 The Goblin Emperor by Katherine Addison
The youngest, half-goblin son of the Emperor has lived his entire life in exile, distant from the Imperial Court and the deadly intrigue that suffuses it. But when his father and three sons in line for the throne are killed in an "accident," he has no choice but to take his place as the only surviving rightful heir.
Entirely unschooled in the art of court politics, he has no friends, no advisors, and the sure knowledge that whoever assassinated his father and brothers could make an attempt on his life at any moment.
Surrounded by sycophants eager to curry favor with the naïve new emperor, and overwhelmed by the burdens of his new life, he can trust nobody. Amid the swirl of plots to depose him, offers of arranged marriages, and the specter of the unknown conspirators who lurk in the shadows, he must quickly adjust to life as the Goblin Emperor. All the while, he is alone, and trying to find even a single friend… and hoping for the possibility of romance, yet also vigilant against the unseen enemies that threaten him, lest he lose his throne – or his life.
Shadows on the Moon by Zoë Marriott 
Trained in the magical art of shadow-weaving, sixteen-year-old Suzume is able to recreate herself in any form – a fabulous gift for a girl desperate to escape her past. But who is she really? Is she a girl of noble birth living under the tyranny of her mother's new husband, Lord Terayama, or a lowly drudge scraping a living in the ashes of Terayama's kitchens, or Yue, the most beautiful courtesan in the Moonlit Lands? Whatever her true identity, Suzume is destined to capture the heart of a prince – and determined to use his power to destroy Terayama. And nothing will stop her, not even love.
Iron and Velvet by Alexis Hall
First rule in this line of business: don't sleep with the client.
My name's Kate Kane, and when an eight-hundred-year-old vampire prince came to me with a case, I should have told her no. But I've always been a sucker for a femme fatale.
It always goes the same way. You move too fast, you get in too deep, and before you know it, someone winds up dead. Last time it was my partner. This time it could be me. Yesterday a werewolf was murdered outside the Velvet, the night-time playground of one of the most powerful vampires in England. Now half the monsters in London are at each other's throats, and the other half are trying to get in my pants. The Witch Queen will protect her own, the wolves are out for vengeance, and the vampires are out for, y'know, blood.
I've got a killer on the loose, a war on the horizon, and a scotch on the rocks. It's going to be an interesting day.