July 23: Settings I'd Like to See More Of
Which would you like more of? Which have you just seen too many times?
Circuses, magical or otherwise, like in Pantomime by Laura Lam
In a land of lost wonders, the past is stirring once more . . .
Gene's life resembles a debutante's dream. Yet she hides a secret that would see her shunned by the nobility. Gene is both male and female. Then she displays unwanted magical abilities – last seen in mysterious beings from an almost-forgotten age. Matters escalate further when her parents plan a devastating betrayal, so she flees home, dressed as a boy.
The city beyond contains glowing glass relics from a lost civilization. They call to her, but she wants freedom not mysteries. So, reinvented as 'Micah Grey', Gene joins the circus. As an aerialist, she discovers the joy of flight – but the circus has a dark side. She's also plagued by visions foretelling danger. A storm is howling in from the past, but will she heed its roar?
Boarding schools, like in Truly Devious by Maureen Johnson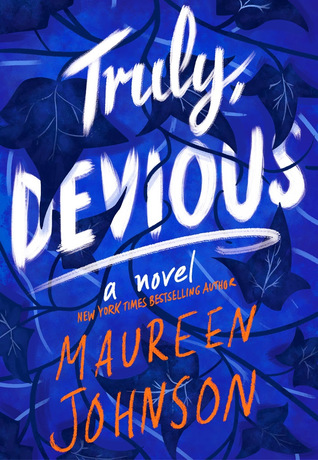 Ellingham Academy is a famous private school in Vermont for the brightest thinkers, inventors, and artists. It was founded by Albert Ellingham, an early twentieth century tycoon, who wanted to make a wonderful place full of riddles, twisting pathways, and gardens. "A place" he said, "where learning is a game."
Shortly after the school opened, his wife and daughter were kidnapped. The only real clue was a mocking riddle listing methods of murder, signed with the frightening pseudonym, Truly Devious. It became one of the great unsolved crimes of American history.
True-crime aficionado Stevie Bell is set to begin her first year at Ellingham Academy, and she has an ambitious plan: She will solve this cold case. That is, she will solve the case when she gets a grip on her demanding new school life and her housemates: the inventor, the novelist, the actor, the artist, and the jokester. But something strange is happening. Truly Devious makes a surprise return, and death revisits Ellingham Academy. The past has crawled out of its grave. Someone has gotten away with murder.
Goodreads —- Book Depository —- Wordery
Ancient civilisations, like A Thousand Ships by Natalie Haynes
This was never the story of one woman, or two. It was the story of all of them…
In the middle of the night, Creusa wakes to find her beloved Troy engulfed in flames. Ten seemingly endless years of brutal conflict between the Greeks and the Trojans are over, and the Greeks are victorious. Over the next few hours, the only life she has ever known will turn to ash . . .
The devastating consequences of the fall of Troy stretch from Mount Olympus to Mount Ida, from the citadel of Troy to the distant Greek islands, and across oceans and sky in between. These are the stories of the women embroiled in that legendary war and its terrible aftermath, as well as the feud and the fatal decisions that started it all…
Goodreads —- Book Depository —- Wordery
Frozen polar landscapes, like East (North Child) by Edith Pattou 
Rose has always been different.
Since the day she was born, it was clear she had a special fate. Her superstitious mother keeps the unusual circumstances of Rose's birth a secret, hoping to prevent her adventurous daughter from leaving home… but she can't suppress Rose's true nature forever.
So when an enormous white bear shows up one cold autumn evening and asks teenage Rose to come away with it–in exchange for health and prosperity for her ailing family–she readily agrees.
Rose travels on the bear's broad back to a distant and empty castle, where she is nightly joined by a mysterious stranger. In discovering his identity, she loses her heart– and finds her purpose–and realizes her journey has only just begun.
Goodreads —- Book Depository —- Wordery
Deep oceans, like Into the Drowning Deep by Mira Grant
Seven years ago, the Atargatis set off on a voyage to the Mariana Trench to film a "mockumentary" bringing to life ancient sea creatures of legend. It was lost at sea with all hands. Some have called it a hoax; others have called it a maritime tragedy.
Now, a new crew has been assembled. But this time they're not out to entertain. Some seek to validate their life's work. Some seek the greatest hunt of all. Some seek the truth. But for the ambitious young scientist Victoria Stewart this is a voyage to uncover the fate of the sister she lost.
Whatever the truth may be, it will only be found below the waves. But the secrets of the deep come with a price.
Goodreads —- Book Depository —- Wordery