SORCERY OF THORNS
MARGARET ROGERSON
SERIES: Standalone
GENRES/ SUBJECTS: YA Gothic Fantasy
REPRESENTATION: Bisexual Love Interest
★★★★★
Goodreads — Book Depository — Wordery
For fans of: Black Butler meets Strange the Dreamer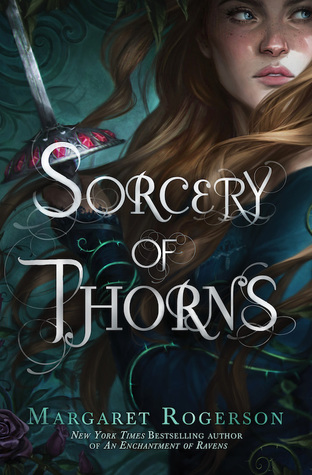 All sorcerers are evil. Elisabeth has known that as long as she has known anything. Raised as a foundling in one of Austermeer's Great Libraries, Elisabeth has grown up among the tools of sorcery—magical grimoires that whisper on shelves and rattle beneath iron chains. If provoked, they transform into grotesque monsters of ink and leather. She hopes to become a warden, charged with protecting the kingdom from their power.
Then an act of sabotage releases the library's most dangerous grimoire. Elisabeth's desperate intervention implicates her in the crime, and she is torn from her home to face justice in the capital. With no one to turn to but her sworn enemy, the sorcerer Nathaniel Thorn, and his mysterious demonic servant, she finds herself entangled in a centuries-old conspiracy. Not only could the Great Libraries go up in flames, but the world along with them.
As her alliance with Nathaniel grows stronger, Elisabeth starts to question everything she's been taught—about sorcerers, about the libraries she loves, even about herself. For Elisabeth has a power she has never guessed, and a future she could never have imagined.
A copy of this was provided free of charge from the publisher in return for an honest review.
Oh. My. Gosh. I loved this book!
I wasn't 100% sure about Rogerson's first book, An Enchantment of Ravens, so I was a little hesitant but I fell completely and utterly in love within the first page.
Rogerson's writing beautiful — stunning — the type of writing that makes you want to cry. She had me hooked from the opening line: "Night fell as death rode into the Great Library of Summerhall. It arrived within a carriage." Beautiful writing is all well and good, but Sorcery of Thorns completely delivered on every other aspect too.
* The plot is full of action and intrigue. The world-building and magic system are interesting but not overworked or laborious to get to grips with. The overall atmosphere has a dark, Gothic bend to it, alongside the fantasy.
* The characters will steal your heart and soul. Elisabeth, Nathaniel and Silas are all wonderful and I fell in love with each of them. The relationships between each of these three characters are so well-written. Each relationship is unique and has its own quirks. The romantic relationship really worked for me too. I thought the romance in An Enchantment of Ravens was far too quick, but this is a nice slow-burn, without being to dragged out.
I don't have much more to say about Sorcery of Thorns. Isn't that always the way with the books you love? I'll just say that this is one of the very best books I've read this year and you absolutely have to pick it up.
READ IT! READ IT! READ IT! READ IT! READ IT!
More Blogger Reviews…