House of Salt and Sorrows by Erin A Craig
Expected Publication: August 6th 2019
Page Count: 416
Genres: YA Fantasy
Goodreads // Wordery // Book Depository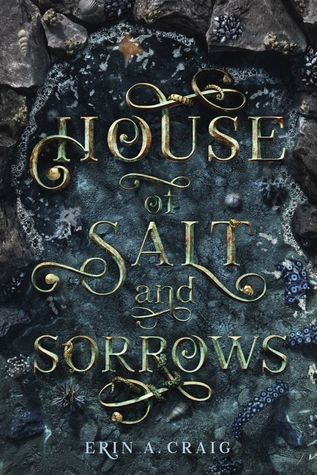 In a manor by the sea, twelve sisters are cursed.
Annaleigh lives a sheltered life at Highmoor, a manor by the sea, with her sisters, their father, and stepmother. Once they were twelve, but loneliness fills the grand halls now that four of the girls' lives have been cut short. Each death was more tragic than the last—the plague, a plummeting fall, a drowning, a slippery plunge—and there are whispers throughout the surrounding villages that the family is cursed by the gods.
Disturbed by a series of ghostly visions, Annaleigh becomes increasingly suspicious that the deaths were no accidents. Her sisters have been sneaking out every night to attend glittering balls, dancing until dawn in silk gowns and shimmering slippers, and Annaleigh isn't sure whether to try to stop them or to join their forbidden trysts. Because who—or what—are they really dancing with?
When Annaleigh's involvement with a mysterious stranger who has secrets of his own intensifies, it's a race to unravel the darkness that has fallen over her family—before it claims her next.
REASONS I'M EXCITED FOR HOUSE OF SALT AND SORROWS
12 Dancing Princesses! I'll always go for a retelling anyway, but this is one I don't think I've seen done before?
It sounds dark, mysterious and maybe slightly twisted.
Standalone fantasy. Yes!!
WWW WEDNESDAYS
What are you currently reading?
ebook: Ever Alice by H.J. Ramsay
Audiobook: Dragon Whisper (The Dark Age Trilogy #1) by Niamh Murphy
What did you recently finish reading? 
Sorcery of Thorns by Margaret Rogerson: So good. Just. So good.
What do you think you'll read next? 
Probably The Day of the Triffids by John Wyndham for my library book group.