TRULY DEVIOUS
MAUREEN JOHNSON
SERIES: Truly Devious, #1
GENRES/ SUBJECTS: YA, Murder Mystery
★★★★★
Goodreads // Book Depository // Wordery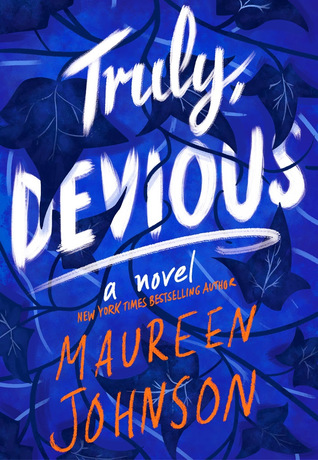 Ellingham Academy is a famous private school in Vermont for the brightest thinkers, inventors, and artists. It was founded by Albert Ellingham, an early twentieth century tycoon, who wanted to make a wonderful place full of riddles, twisting pathways, and gardens. "A place" he said, "where learning is a game."
Shortly after the school opened, his wife and daughter were kidnapped. The only real clue was a mocking riddle listing methods of murder, signed with the frightening pseudonym, Truly Devious. It became one of the great unsolved crimes of American history. 
True-crime aficionado Stevie Bell is set to begin her first year at Ellingham Academy, and she has an ambitious plan: She will solve this cold case. That is, she will solve the case when she gets a grip on her demanding new school life and her housemates: the inventor, the novelist, the actor, the artist, and the jokester. But something strange is happening. Truly Devious makes a surprise return, and death revisits Ellingham Academy. The past has crawled out of its grave. Someone has gotten away with murder.
I really loved this book. It's my first time reading Maureen Johnson and I think I picked a really good one to start.
I loved the mystery element and the old-school detective vibe that the whole thing had going on. Although it's YA and completely modern feeling, it also had the spirit of Agatha Christie's Poirot books: the isolated location, the glamour and all the secrets. I also really like the double time line and the fact there were two mysteries rolled into one. I sort of appreciated that Johnson didn't feel the need to wrap either plotline up with a neat bow at the end of this instalment. There's a satisfaction from knowing some of what's going on but the things left hanging made me really keen to pick up the next book.
On the other hand, if I'd read this one at publication, I'd be fuming, as this kind of feel like this cuts of right as we should be going into the final act. Luckily, I can dive into The Vanishing Staircase whenever I want, but it's made me a little wary of starting that one too far ahead of the release of the final book.
That aside, the school was a real winner for me. Somehow the whole place had a really interesting atmosphere to it as well, somewhere between a haunted house story and a locked room mystery setting that just really worked for me. I really liked the very idea it, that exceptional bright teens get to focus on their own areas of expertise with seemingly limitless funding and freedom. As well as being a lot of fun to see where everyone's interests lay, it made it really believable that as a crime-buff, Stevie would start sticking her nose where it didn't belong even when warned off, and that she'd have enough background knowledge and skills to actually uncover anything new.
Speaking of Stevie — I loved her, plain and simple. I was a little confused by the shift in the main character from Dotty to Stevie and it took me a little while to re-settle into the POV, but I thought she was brilliant and incredibly relatable.
Truly Devious was an absolutely brilliant book that combined a really compelling setting, an intriguing mystery and a wonderful lead character.
Blogger Reviews