There's been a lot of epic, horrific, touching and generally memorable moments in the Game of Thrones TV series and in the A Song of Ice and Fire books. 
What are your favourites? Or your most memorable: good or bad?
Here's my Top 7 Moments.
The Red Wedding
I remember actually crying when I read this part in the book. It was heart-wrenching. Even knowing it was coming, it was so well filmed and tense it still came as a blow. Waiting for the non-reader to react was a real kick too.
The Purple Wedding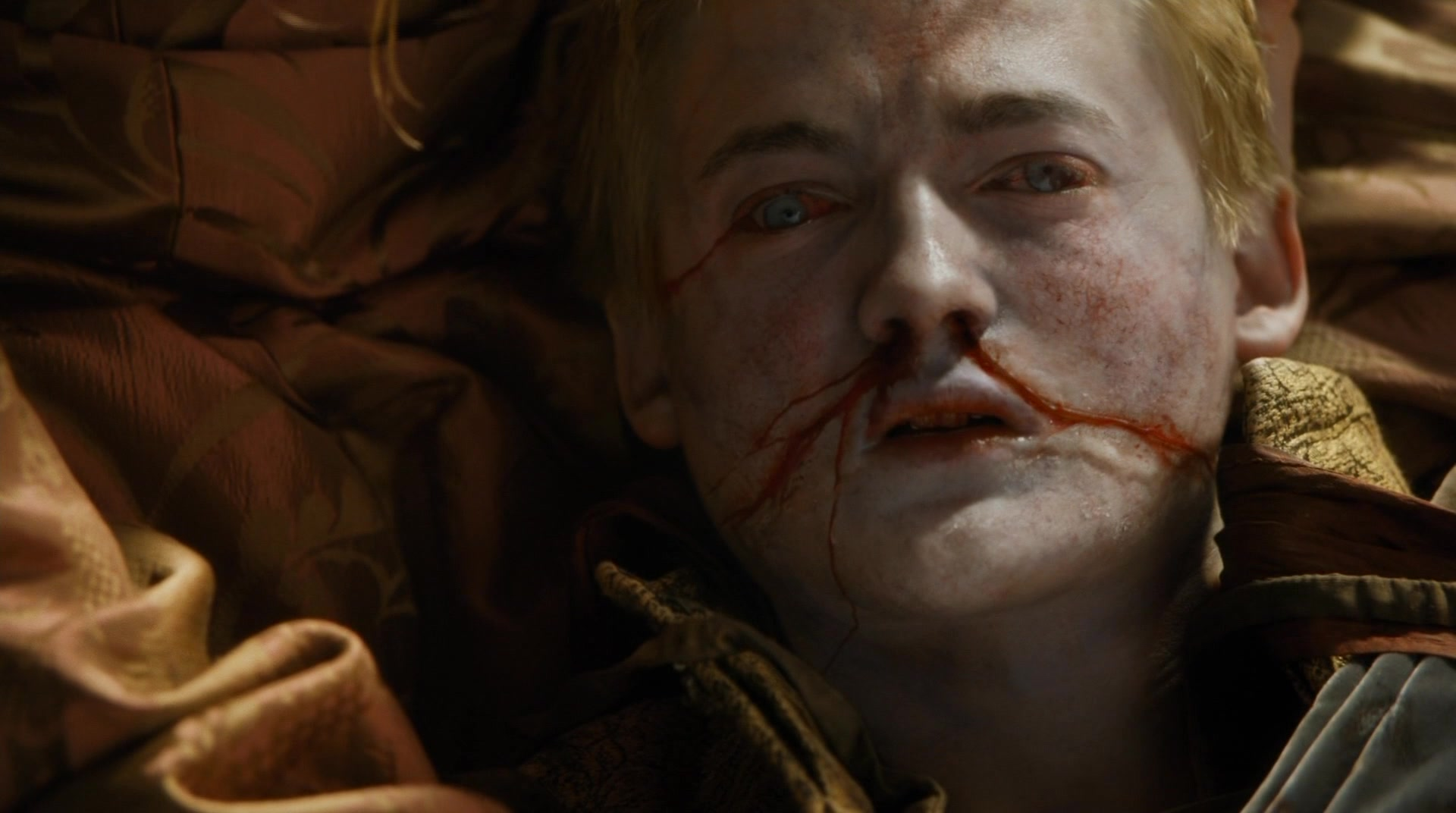 There's a lot of memorable weddings in A Song of Ice and Fire. Watching Joffery die, after all the horrible things he'd done, was sort of cathartic.
Ned Stark's Beheading
I think this one was so shocking because it's the first real 'main character' death. Ned's the archetypal, noble hero. You expect the world to fall into line so he can overcome and sort of complete the story arc. Having that expectation ripped out from under you sets the tone for the whole series.
Littlefinger's Execution
Without ever getting his hands dirty, Littlefinger is the slipperiest, slimiest characters in the series. Like Joffery, watching him die was fun, especially the moment that realises it's Sansa — who he's patronised, manipulated and underestimated — who's outsmarted him.
Jaime's Physiotherapy
Losing his hand is sort of a turning point from Jaime from hateable to likeable. In the show especially, seeing him get to grips with the change — the prosthetic fitting, sparing with Bronn etc. — were nice, light moments. That little hand wave!
The Battle of the Blackwater
This is one of my favourite episodes, the whole thing. I love the cinematic quality and the fact it stays focus on one thing for the whole episode. I loved Cersei and Sansa discussing life truths while hiding, I loved the drama of the wildfire ambush and I loved seeing Tyrion as a hero, leading men and getting respect for a change.
**SEASON 8 SPOILER**
Group bonding and Brienne's knighting
The group dynamic was so much fun — the faces during Tormand's milk story, anyone? But there were also some beautiful, tiny character moments between different members of the group. Brienne's knighting was beautiful: the understanding look Pod gave her when she denied wanting it, the fact it was Jaime, how she's always been one of the truest knights in Westeros…