Spin the Dawn by Elizabeth Lim
Expected Publication: July 30th 2019
Page Count: 400
Genres: YA Fantasy
Goodreads // Wordery // Book Depository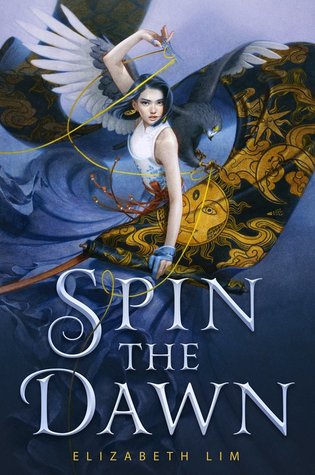 Maia Tamarin dreams of becoming the greatest tailor in the land, but as a girl, the best she can hope for is to marry well. When a royal messenger summons her ailing father, once a tailor of renown, to court, Maia poses as a boy and takes his place. She knows her life is forfeit if her secret is discovered, but she'll take that risk to achieve her dream and save her family from ruin. There's just one catch: Maia is one of twelve tailors vying for the job.
Backstabbing and lies run rampant as the tailors compete in challenges to prove their artistry and skill. Maia's task is further complicated when she draws the attention of the court magician, Edan, whose piercing eyes seem to see straight through her disguise.
And nothing could have prepared her for the final challenge: to sew three magic gowns for the emperor's reluctant bride-to-be, from the laughter of the sun, the tears of the moon, and the blood of stars. With this impossible task before her, she embarks on a journey to the far reaches of the kingdom, seeking the sun, the moon, and the stars, and finding more than she ever could have imagined.
REASONS I'M EXCITED FOR SPIN THE DAWN
Comp'd to Mulan. Girls in disguise is always a fun trope.
Comp'd to Project Runway. Magical contest and competitions are one of my favourite things to read about, especially the type with different rounds and eliminations. 
A contest for tailors. I love textiles, sewing and embroidery so reading about all of this infused with fantasy will be magical.
WWW WEDNESDAYS
What are you currently reading?
paperback: Escape From Sunset Grove by Minna Lindgren
Audiobook: Lords and Ladies by Terry Pratchett
What did you recently finish reading? I've been on a cozy mystery binge this week. I had a couple as ARCs to read I've just read the first two in the Baker Street Mystery series by CeeCee James.
What do you think you'll read next? Stepsister by Jennifer Donnelly. It's coming out on the 14th so I really need to read and review it soon.