Sorcery of Thorns by Margaret Rogerson
Expected Publication: June 4th 2019
Page Count: 464
Genres: YA Fantasy
Goodreads // Wordery // Book Depository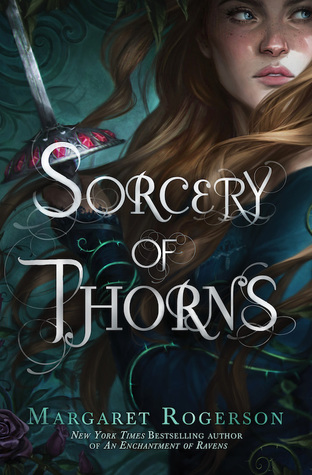 All sorcerers are evil. Elisabeth has known that as long as she has known anything. Raised as a foundling in one of Austermeer's Great Libraries, Elisabeth has grown up among the tools of sorcery—magical grimoires that whisper on shelves and rattle beneath iron chains. If provoked, they transform into grotesque monsters of ink and leather. She hopes to become a warden, charged with protecting the kingdom from their power.
Then an act of sabotage releases the library's most dangerous grimoire. Elisabeth's desperate intervention implicates her in the crime, and she is torn from her home to face justice in the capital. With no one to turn to but her sworn enemy, the sorcerer Nathaniel Thorn, and his mysterious demonic servant, she finds herself entangled in a centuries-old conspiracy. Not only could the Great Libraries go up in flames, but the world along with them.
As her alliance with Nathaniel grows stronger, Elisabeth starts to question everything she's been taught—about sorcerers, about the libraries she loves, even about herself. For Elisabeth has a power she has never guessed, and a future she could never have imagined.
REASONS I'M EXCITED FOR SORCERY OF THORNS
THE COVER! That illustration is absolutely beautiful! What an artist!
The writing. I thought Margaret Rogerson's writing in An Enchantment of Raven was beautiful, even if the romance didn't quite work for me. I'm keen to try her work again.
"Raised as a foundling in one of Austermeer's Great Libraries". Orphans? Living in libraries? Gimme, gimme, gimme!
WWW WEDNESDAYS
What are you currently reading?
Hardback: A Thousand Ships by Natalie Haynes (for #for #OWLsReadathon2019 Charms prompt and AvengersReadathon19 Captain America: WWII prompt).
Audiobook: Still Star-Crossed by Melinda Taub (for #OWLsReadathon2019 Astronomy prompt and Cornerfolds' Retelling Bingo)
What did you recently finish reading? Miranda in Milan by Katharine Duckett. I really enjoyed this one but it's pretty short. I gave it 3.5 stars on finishing but I might up it to 4 by the time I write my review. I'm still on the fence. Does anyone else obsessive about really inconsequential differences in ratings, or is it just me?
What do you think you'll read next? I've really no idea. I only just started A Thousand Ships so I'll be busy with that for at least a few days. I might go for Extinction Trials: Exile next, cause I think it'll be a fast, fun read.