April 9: Outrageous Things I've Done for the Love of Books (i.e. skip meals, camped outside a bookstore, broke up with someone because they don't like books, etc. – submitted by Aggie's Amygdala)
I wasn't really feeling this weeks topic so I decided to just do my own thing. This week I'll be looking at…
Ten Books With Faces On the Cover
I've notice that, as a general rule, we in the book community often aren't keen on books that have models or hyper-realistic faces drawn on the cover. Partly, this is totally practical: when the face doesn't look anything like the character is described it can be off-putting and confusing (multiply this by about five when the cover white-washes POC characters…) but there also just seems to be a more general dislike.
Here are ten books (with realistic faces on the front cover) whose design I absolutely love.
Enchantée by Gita Trelease
Goodreads // Book Depository // Wordery
When smallpox kills her parents, Camille Durbonne must find a way to provide for her frail, naive sister while managing her volatile brother. Relying on petty magic—la magie ordinaire—Camille painstakingly transforms scraps of metal into money to buy the food and medicine they need. But when the coins won't hold their shape and her brother disappears with the family's savings, Camille must pursue a richer, more dangerous mark: the glittering court of Louis XVI and Marie Antoinette.
With dark magic forbidden by her mother, Camille transforms herself into the 'Baroness de la Fontaine' and is swept up into life at the Palace of Versailles, where aristocrats both fear and hunger for la magie. There, she gambles at cards, desperate to have enough to keep herself and her sister safe. Yet the longer she stays at court, the more difficult it becomes to reconcile her resentment of the nobles with the enchantments of Versailles. And when she returns to Paris, Camille meets a handsome young balloonist—who dares her to hope that love and liberty may both be possible.
But la magie has its costs. And when Camille loses control of her secrets, the game she's playing turns deadly. Then revolution erupts, and she must choose—love or loyalty, democracy or aristocracy, freedom or magic—before Paris burns…
The Weight of the Stars by K. Ancrum 
Goodreads // Book Depository // Wordery
Ryann Bird dreams of traveling across the stars. But a career in space isn't an option for a girl who lives in a trailer park on the wrong side of town. So Ryann becomes her circumstances and settles for acting out and skipping school to hang out with her delinquent friends. 
One day she meets Alexandria: a furious loner who spurns Ryann's offer of friendship. After a horrific accident leaves Alexandria with a broken arm, the two misfits are brought together despite themselves—and Ryann learns her secret: Alexandria's mother is an astronaut who volunteered for a one-way trip to the edge of the solar system. 
Every night without fail, Alexandria waits to catch radio signals from her mother. And its up to Ryann to lift her onto the roof day after day until the silence between them grows into friendship, and eventually something more . . .
Fog Season by Patrice Sarath
After the shocking events of last summer, the high society of Port Saint Frey has plenty to gossip about. Who was the Gentleman Bandit? Why hasn't he been captured? And what really happened that night when the Guildmaster disappeared? When the Guild hires Abel Fresnel, a detective with special powers of his own, to find the answers, Tesara and Yvienne Mederos have to avoid his probing questions and keep mum about their role in the events of that dark night. Everything's more or less under control until a dead man turns up in the dumbwaiter…
The Ghost Bride by Yangsze Choo
Goodreads // Book Depository // Wordery
Though ruled by British overlords, the Chinese of colonial Malaya still cling to ancient customs. And in the sleepy port town of Malacca, ghosts and superstitions abound.
Li Lan, the daughter of a genteel but bankrupt family, has few prospects. But fate intervenes when she receives an unusual proposal from the wealthy and powerful Lim family. They want her to become a ghost bride for the family's only son, who recently died under mysterious circumstances. Rarely practiced, a traditional ghost marriage is used to placate a restless spirit. Such a union would guarantee Li Lan a home for the rest of her days, but at a terrible price.
After an ominous visit to the opulent Lim mansion, Li Lan finds herself haunted not only by her ghostly would-be suitor, but also by her desire for the Lim's handsome new heir, Tian Bai. Night after night, she is drawn into the shadowy parallel world of the Chinese afterlife, with its ghost cities, paper funeral offerings, vengeful spirits and monstrous bureaucracy—including the mysterious Er Lang, a charming but unpredictable guardian spirit. Li Lan must uncover the Lim family's darkest secrets—and the truth about her own family—before she is trapped in this ghostly world forever.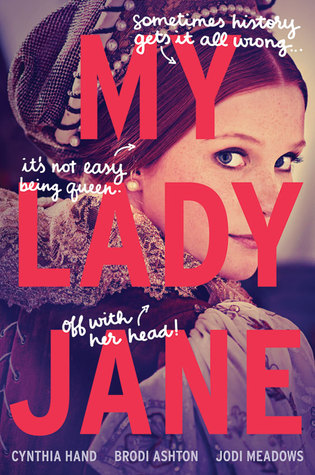 My Lady Jane by Cynthia Hand, Brodi Ashton & Jodi Meadows
Goodreads // Book Depository // Wordery
Edward (long live the king) is the King of England. He's also dying, which is inconvenient, as he's only sixteen and he'd much rather be planning for his first kiss than considering who will inherit his crown…
Jane (reads too many books) is Edward's cousin, and far more interested in books than romance. Unfortunately for Jane, Edward has arranged to marry her off to secure the line of succession. And there's something a little odd about her intended…
Gifford (call him G) is a horse. That is, he's an Eðian (eth-y-un, for the uninitiated). Every day at dawn he becomes a noble chestnut steed—but then he wakes at dusk with a mouthful of hay. It's all very undignified.
The plot thickens as Edward, Jane, and G are drawn into a dangerous conspiracy. With the fate of the kingdom at stake, our heroes will have to engage in some conspiring of their own. But can they pull off their plan before it's off with their heads?
S
till Star-Crossed by Melinda Taub
Discover what happened after the tragic deaths of Romeo and Juliet, as mysterious figures in Verona are determined to reignite the feud between the Montagues and the Capulets.
In fair Verona, enemies still walk the streets.
Two new hearts. Same two families. 
The fight to the altar is about to happen. 
All. Over. Again. 
The Dark Days Deceit by Alison Goodman
Goodreads // Book Depository // Wordery
Lady Helen has retreated to a country estate outside Bath to prepare for her wedding to the Duke of Selburn, yet she knows she has unfinished business to complete. She and the dangerously charismatic Lord Carlston have learned they are a dyad, bonded in blood, and only they are strong enough to defeat the Grand Deceiver, who threatens to throw mankind into chaos. But the heinous death-soaked Ligatus Helen has absorbed is tearing a rift in her mind. Its power, if unleashed, will annihilate both Helen and Carlston unless they can find a way to harness its ghastly force and defeat their enemy.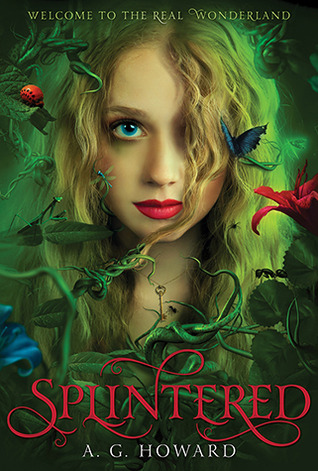 Splintered by A.G. Howard
Goodreads // Book Depository // Wordery
Alyssa Gardner hears the whispers of bugs and flowers—precisely the affliction that landed her mother in a mental hospital years before. This family curse stretches back to her ancestor Alice Liddell, the real-life inspiration for Lewis Carroll's Alice's Adventures in Wonderland. Alyssa might be crazy, but she manages to keep it together. For now.
When her mother's mental health takes a turn for the worse, Alyssa learns that what she thought was fiction is based in terrifying reality. The real Wonderland is a place far darker and more twisted than Lewis Carroll ever let on. There, Alyssa must pass a series of tests, including draining an ocean of Alice's tears, waking the slumbering tea party, and subduing a vicious bandersnatch, to fix Alice's mistakes and save her family. She must also decide whom to trust: Jeb, her gorgeous best friend and secret crush, or the sexy but suspicious Morpheus, her guide through Wonderland, who may have dark motives of his own.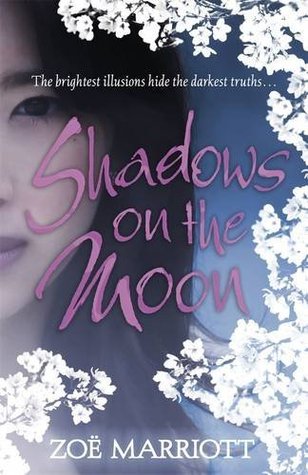 Shadows on the Moon by Zoë Marriott
Goodreads // Book Depository // Wordery
Trained in the magical art of shadow-weaving, sixteen-year-old Suzume is able to recreate herself in any form – a fabulous gift for a girl desperate to escape her past. But who is she really? Is she a girl of noble birth living under the tyranny of her mother's new husband, Lord Terayama, or a lowly drudge scraping a living in the ashes of Terayama's kitchens, or Yue, the most beautiful courtesan in the Moonlit Lands? Whatever her true identity, Suzume is destined to capture the heart of a prince – and determined to use his power to destroy Terayama. And nothing will stop her, not even love.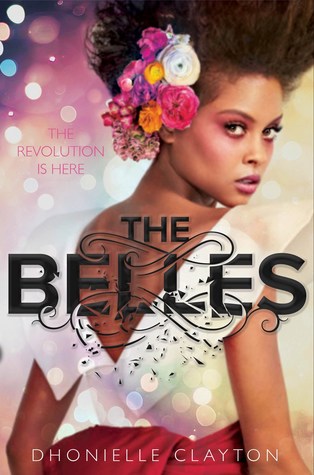 The Belles by Dhonielle Clayton
Goodreads // Book Depository // Wordery
Camellia Beauregard is a Belle. In the opulent world of Orléans, Belles are revered, for they control Beauty, and Beauty is a commodity coveted above all else. In Orléans, the people are born gray, they are born damned, and only with the help of a Belle and her talents can they transform and be made beautiful.
But it's not enough for Camellia to be just a Belle. She wants to be the favorite—the Belle chosen by the Queen of Orléans to live in the royal palace, to tend to the royal family and their court, to be recognized as the most talented Belle in the land. But once Camellia and her Belle sisters arrive at court, it becomes clear that being the favorite is not everything she always dreamed it would be. Behind the gilded palace walls live dark secrets, and Camellia soon learns that the very essence of her existence is a lie—that her powers are far greater, and could be more dangerous, than she ever imagined. And when the queen asks Camellia to risk her own life and help the ailing princess by using Belle powers in unintended ways, Camellia now faces an impossible decision. 
With the future of Orléans and its people at stake, Camellia must decide—save herself and her sisters and the way of the Belles—or resuscitate the princess, risk her own life, and change the ways of her world forever.