DEATH PREFERS BLONDES
CALEB ROEHRIG
SERIES: Standalone
REPRESENTATION: Bisexual Protagonist, Gay MCs, Asian-Latino MC
GENRES/ SUBJECTS: YA Contemporary
★★★★★
Goodreads // Book Depository // Wordery
For fans of: Ru Paul's Drag Race, Ocean's 8 and Six of Crows.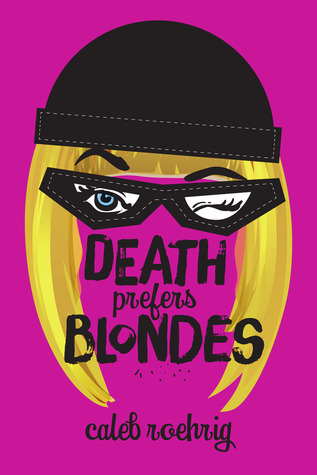 Teenage socialite Margo Manning leads a dangerous double life. By day, she dodges the paparazzi while soaking up California sunshine. By night, however, she dodges security cameras and armed guards, pulling off high-stakes cat burglaries with a team of flamboyant young men. In and out of disguise, she's in all the headlines.
But then Margo's personal life takes a sudden, dark turn, and a job to end all jobs lands her crew in deadly peril. Overnight, everything she's ever counted on is put at risk. Backs against the wall, the resourceful thieves must draw on their special skills to survive. But can one rebel heiress and four kickboxing drag queens withstand the slings and arrows of truly outrageous fortune? Or will a mounting sea of troubles end them — for good?
I really adored Death Prefers Blondes! It's such an action-packed, fast-paced story, packed with a fabulous cast of lovable characters.
You really get thrown right into the high-octane world of Margo's risky heists. There's cool technology, grappling hook and parachute flight escapes! There's even a little hint of mystery woven through all of the action as Margo tries to figure out what's happening with her sick father and (by my count) three separate, elaborate heist.
While the action-packed plot and glamorous, high-society setting is glitzy, there's a real depth and realism to all the characters.
I loved Margo. She's been the spoilt rich-girl, acting out for attention and, while the world still sees her that way, she's now a criminal mastermind and frighteningly competent team-leader. I really loved how snarky and intelligent she is, but that Roehrig let her make mistakes, show weaknesses and have moments of … bitchiness? Despite being a teen heiress, she felt really relatable.
The four guys are just as wonderful despite getting less time as the POV characters. They're all a little easy to like than Margo, I think? We get to know about their pasts and reasons for getting into both drag and crime and all about their current dilemmas and relationships. There's great banter and little nods to queer and drag culture scattered throughout. It tackles some tough subjects with respect, humour and a gentle touch.
Death Prefers Blondes manages a brilliant balance of character moments and break-neck story-telling, it's going to suit both characters- and plot-driven readers equally.
It's absolutely fabulous!
A new forever favourite.
Reviews from other bloggers
The Restaurant at the End of the Universe