SKY IN THE DEEP
ADRIENNE YOUNG
SERIES: Sky in the Deep #1
GENRES/ SUBJECTS: YA Historical (Vikings)
★★★★☆
Goodreads // Wordery // Book Depository
For fans of: enemies-to-lovers, Vikings and warrior women
Keep reading for a guest post which showcases five strong, fabulous, female protagonists from upcoming YA novels.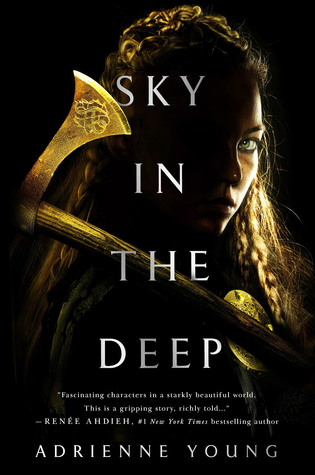 Raised to be a warrior, seventeen-year-old Eelyn fights alongside her Aska clansmen in an ancient rivalry against the Riki clan. Her life is brutal but simple: fight and survive. Until the day she sees the impossible on the battlefield—her brother, fighting with the enemy—the brother she watched die five years ago.
Faced with her brother's betrayal, she must survive the winter in the mountains with the Riki, in a village where every neighbor is an enemy, every battle scar possibly one she delivered. But when the Riki village is raided by a ruthless clan thought to be a legend, Eelyn is even more desperate to get back to her beloved family.
She is given no choice but to trust Fiske, her brother's friend, who sees her as a threat. They must do the impossible: unite the clans to fight together, or risk being slaughtered one by one. Driven by a love for her clan and her growing love for Fiske, Eelyn must confront her own definition of loyalty and family while daring to put her faith in the people she's spent her life hating.
A copy of this was provided free of charge from the publisher in return for an honest review.
Guest Post by Adrienne Young: Most Anticipated YA Fantasy Books of 2019
It's been a great couple of years for the young adult fantasy shelf and I am so excited about the books that lay ahead for 2019! One of the trends I'm loving so much is the strong female character not being "a thing" anymore. A few years ago, books with those fierce leads were defined by that aspects. Now, strong girls are so prevalent that it's not something we have to be constantly analyzing. That's a good place to be. But there are a lot of other exciting things happening on the shelves as well and I think it's creating space for more complex books that don't fit the status quo of the past.
Here's a look a few books that fit that bill that I've had preordered for coming months.
1. Finale by Stephanie Garber
I know I'm not the only one anticipating the conclusion to Stephanie Garber's Caraval world! This is a series that took YA readers by storm and I have a feeling the third book is going to deliver 100%. Garber has taken us on quite a journey as readers and I love the way she's explored sister bonds. I can't wait to see what she has in store for us!
2. We Hunt the Flame by Hafsah Faizal
This is one book that I've been anxiously awaiting since it was first announced. I was first captured by the incredible title, but that gorgeous cover completely sealed the deal. This story promises to be epic in scope, penned in beautiful prose with complex characterization. The excerpt I read was fully of rich, beautiful prose and all those little descriptive details that make a story come to life in your mind. It can't come fast enough!
3. The Storm Crow by Kalyn Josephson
I had the opportunity to read an early copy of this debut and was utterly captivated by the world. This book was such a great balance of everything we love about YA fantasy, but with its own distinct identity. It also handles mental health rep in a really wonderful way, with a simultaneously vulnerable and yet incredibly strong female lead. Another book that goes beyond the "fierce girl" trope and provides more dimension to female characterization.
4. Wicked Saints by Emily Duncan
This is another book I had the privilege to read early and I am so excited for readers to get it into their hands! I am a sucker for anything dark and Duncan's debut is so shadowy as well as a bit creepy, with a magic-filled world and twists that keep you turning the page. This book was a really decadent read.
5. There Will Come a Darkness by Katy Rose Pool
I've heard nothing but good things about this incredibly complex fantasy novel coming in September and it makes me really excited for what's ahead for the YA category. With intricate storytelling and multiple POV's, many are comparing this to Game of Thrones for YA. I have a feeling this one is going to be a major stand out this year and if it does what I think it will, it will raise the bar in the best way possible.
My Review of Sky in the Deep
One of the things I really loved about this book was how action-packed it was! Which I think a book about Viking-style warriors really has to be, right?
Young doesn't pull any punches with the opening, she throws us straight into the action — a vivid battle scene — and trusts the reader to get to know the characters and pick up the world-building as we go along. She doesn't overly sanitize the Viking-esque society either (something I was a bit concern about considering it's a YA). I'm not saying it's Game of Thrones, and I don't think the violence is gratuitous, but the realities of battle skirmishes and treatment of various would felt incredibly believable. [That being said, there are scenes with seeping wounds and torture that might upset some readers, so that's something to be aware of.] There's never a dull moment from that opening battle onwards: the tight pacing and dynamic plot kept me turning pages so quickly I flew threw Eelyn's story.
Speaking of Eelyn… Oh my gosh! I loved her so much. She's definitely one of my new top YA protagonists. She's strong and stubborn, determined to be the perfect honourable warrior. But she's also scared and compassionate and prejudiced. She feels like a really well-rounded character that's completely believable for the society she's been raised in. Her relationships with the other characters were beautiful and fascinating. I loved the complexity of the sibling relationship, the slow-burn romance and the gradual way she comes to accept difference members of the Riki village (I also liked that this wasn't universal, there's good and bad in both clans).
I'm a little gutted that Sky in the Deep appears to be essentially a standalone, because I'd really love to spend more time with Fiske and Eelyn. I also think the book could have been just a little longer, as the ending felt a tad rushed to me. However, The Girl the Sea Gave Back, a standalone in the same universe is coming out this year and it looks like one of my favourite characters is going to make an appearance so I'm really looking forward to that!
Sky in the Deep is an immersive story set in a vivid world. If you enjoy strong heroines and fast-paced, dramatic plots, you should give it a try.
From More Bloggers