THE PAST AND OTHER THINGS THAT SHOULD STAY BURIED
SHAUN DAVID HUTCHINSON
SERIES: Standalone
REPRESENTATION: Gay Protagonist, MM relationship, Trans POC LI
GENRES/ SUBJECTS: YA Contemporary, Paranormal
★★★★
Goodreads // Book Depository // Wordery
For fans of: Pushing Daisies, Undead Girl Gang and They Both Die At the End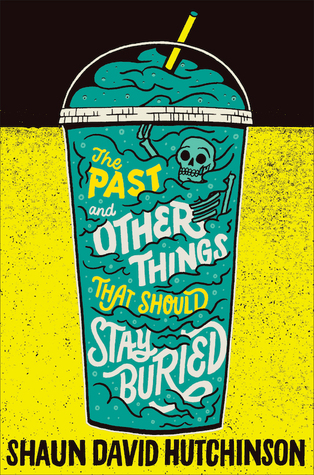 A good friend will bury your body, a best friend will dig you back up.
Dino doesn't mind spending time with the dead. His parents own a funeral home, and death is literally the family business. He's just not used to them talking back. Until Dino's ex-best friend July dies suddenly—and then comes back to life. Except not exactly. Somehow July is not quite alive, and not quite dead.
As Dino and July attempt to figure out what's happening, they must also confront why and how their friendship ended so badly, and what they have left to understand about themselves, each other, and all those grand mysteries of life.
I love the way Shaun David Hutchinson always seems to hit just the right balance of speculative elements and realism. There's always just enough science-fiction or fantasy (zombies in this case) to keep my attention, but the focus is centered around real human experiences and emotions (here: rebuilding friendship and grief).
I also really like that he writes stories about queer characters that allow the characters' lives to be about more than just their sexuality. Here, in The Past and Other Things That Should Stay Buried, Dino being gay is a big part of the story, but it's not the focus. The focus is on his broken relationship with July, his feelings of inadequacy in his current romantic relationship with Rafi and the disconnect between what he wants to do with his life and what his family expects from him.
Dino's a sweetie that most people will probably love, but I think I'm going to be in the minority of readers who really enjoyed July as a character. I'm not sure I like her, but she was compelling.
She's not a very likeable character, honestly. For one thing, she's problematic af. But Hutchinson uses this to call-out some of her attitudes and jokes, and she seems to take the criticisms on-board and evolve. She's also just plain bitchy for a lot of the book. But then, if I woke up in a morgue, my body slowly decomposing and I couldn't even reconnect with my grieving loved ones, I'm not so sure I wouldn't be a whining nightmare as well.
I do think that as well as being more likeable, Dino felt like a more fully-rounded personality. Despite the dual-POV it felt far more Dino's story than July's and I was a little disappointed she wasn't as three-dimensional. I can't really put my finger on it, but there was just something flatter about July and, despite the trauma she's going through, there didn't seem to be the same emotional connect.
The Past and Other Things That Should Stay Buried is a wonderfully quiet, low-key look at friendship and how it changes. I really liked the focus on a platonic m/f relationship (so rare in YA) and the idea that both people and relationships can be flawed and imperfect but still completely valid. I don't think I connected to Dino and July as much I would have liked but it's still an utterly fabulous story.
More bloggers to read…
Review from Books and Big Ideas