Wicked Saints by Emily A. Duncan
Expected Publication: April 2nd 2019
Genres: YA Fantasy
Pages: 400
GOODREADS // WORDERY // BOOKDEPOSITORY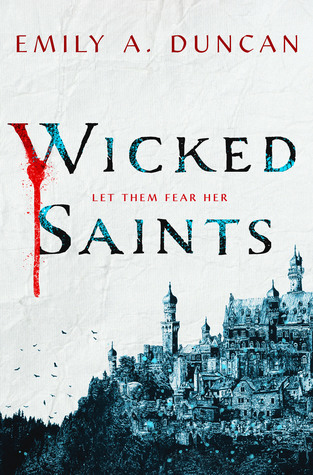 A girl who can speak to gods must save her people without destroying herself.
A prince in danger must decide who to trust.
A boy with a monstrous secret waits in the wings. 
Together, they must assassinate the king and stop the war.
In a centuries-long war where beauty and brutality meet, their three paths entwine in a shadowy world of spilled blood and mysterious saints, where a forbidden romance threatens to tip the scales between dark and light. 
WHY I'M EXCITED FOR WICKED SAINTS
Apparently is dark, twisty and lushly Gothic.
Joan of Arc. It's not a retelling but the author has said it "takes on thematic elements similar to Joan of Arc's story".
It has a blend of Russian and Polish setting and culture.
WWW WEDNESDAYS
What are you currently reading?
paperback: The Language of Flowers by Vanessa Diffenbaugh
Audiobook: Alcestis by Katharine Beutner
What did you recently finish reading? A Local Habitation
(October Daye #2) by Seanan McGuire
What do you think you'll read next? The Near Witch by Victoria Schwab