Every genre has it's tropes and conventions, but I feel like in Romance novels (or just romantic relationships in general) they're especially well-known and iconic. I don't pick up a whole lot of romance-centric stories, but I do enjoy a good cliché. In honour of Valentine's Day thundering, inevitable approach, here's some trope I think are really fun and popular, and some great books which feature them.
Enemies to Lovers…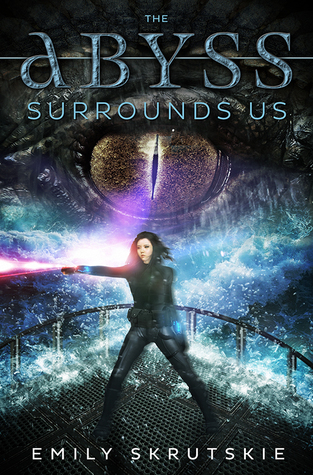 The Abyss Surrounds Us by Emily Skrutskie
MY REVIEW — GOODREADS — WORDERY — BOOK DEPOSITORY
For Cassandra Leung, bossing around sea monsters is just the family business. She's been a Reckoner trainer-in-training ever since she could walk, raising the genetically-engineered beasts to defend ships as they cross the pirate-infested NeoPacific. But when the pirate queen Santa Elena swoops in on Cas's first solo mission and snatches her from the bloodstained decks, Cas's dream of being a full-time trainer seems dead in the water.
There's no time to mourn. Waiting for her on the pirate ship is an unhatched Reckoner pup. Santa Elena wants to take back the seas with a monster of her own, and she needs a proper trainer to do it. She orders Cas to raise the pup, make sure he imprints on her ship, and, when the time comes, teach him to fight for the pirates. If Cas fails, her blood will be the next to paint the sea.
Second Chance Romance…
The Bureau of Holiday Affairs by Andi Marquette
MY REVIEW — GOODREADS — WORDERY — BOOK DEPOSITORY
Executive Robin Preston has dedicated her life to climbing the corporate ladder, using whatever means necessary. In the shark-infested culture at Frost Enterprises, anything goes, and Robin is a master at the game.
On the verge of a major promotion, Robin receives a strange visit from Agent Elizabeth Tolson of the Bureau of Holiday Affairs, who informs Robin that, though Robin may be a lost cause, the Bureau has scheduled her for intervention. Robin will receive three visitors in the two weeks before Christmas, who will escort her on visits to her past, present, and future.
Robin will be forced to face not only who she's become, but the parts of herself she left behind, when she was an art major in college and in love with fellow art student Jill Chen, in whom Robin found a kindred spirit—until Jill broke if off with her. In order for Robin to change her ways, she'll need to reclaim who she was and open her heart again, to a past she thought she left behind.
The Bureau clearly has its work cut out for it, but Agent Tolson relishes a challenge, and she's put together just the team for Robin's case. They may have to cut a few corners and go outside a few lines, but Agent Tolson has a perfect salvage record and she's not about to let that change. The question is, will Robin?
Forbidden Love…
An Enchantment of Ravens by Margaret Rogerson
MY REVIEW — GOODREADS — WORDERY — BOOK DEPOSITORY
Isobel is a prodigy portrait artist with a dangerous set of clients: the sinister fair folk, immortal creatures who cannot bake bread, weave cloth, or put a pen to paper without crumbling to dust. They crave human Craft with a terrible thirst, and Isobel's paintings are highly prized. But when she receives her first royal patron—Rook, the autumn prince—she makes a terrible mistake. She paints mortal sorrow in his eyes—a weakness that could cost him his life.
Furious and devastated, Rook spirits her away to the autumnlands to stand trial for her crime. Waylaid by the Wild Hunt's ghostly hounds, the tainted influence of the Alder King, and hideous monsters risen from barrow mounds, Isobel and Rook depend on one another for survival. Their alliance blossoms into trust, then love—and that love violates the fair folks' ruthless laws. Now both of their lives are forfeit, unless Isobel can use her skill as an artist to fight the fairy courts. Because secretly, her Craft represents a threat the fair folk have never faced in all the millennia of their unchanging lives: for the first time, her portraits have the power to make them feel.
Love Triangle…
A Curse So Dark and Lonely by Brigid Kemmerer
MY REVIEW — GOODREADS — WORDERY — BOOK DEPOSITORY
It once seemed so easy to Prince Rhen, the heir to Emberfall. Cursed by a powerful enchantress to repeat the autumn of his eighteenth year over and over, he knew he could be saved if a girl fell for him. But that was before he learned that at the end of each autumn, he would turn into a vicious beast hell-bent on destruction. That was before he destroyed his castle, his family, and every last shred of hope.
Nothing has ever been easy for Harper Lacy. With her father long gone, her mother dying, and her brother barely holding their family together while constantly underestimating her because of her cerebral palsy, she learned to be tough enough to survive. But when she tries to save someone else on the streets of Washington, DC, she's instead somehow sucked into Rhen's cursed world.
A prince? A monster? A curse? Harper doesn't know where she is or what to believe. But as she spends time with Rhen in this enchanted land, she begins to understand what's at stake. And as Rhen realizes Harper is not just another girl to charm, his hope comes flooding back. But powerful forces are standing against Emberfall . . . and it will take more than a broken curse to save Harper, Rhen, and his people from utter ruin.
Rivals to Lovers…
The Seven Husbands of Evelyn Hugo by Taylor Jenkins Reid
MY REVIEW — GOODREADS — WORDERY — BOOK DEPOSITORY
Aging and reclusive Hollywood movie icon Evelyn Hugo is finally ready to tell the truth about her glamorous and scandalous life. But when she chooses unknown magazine reporter Monique Grant for the job, no one is more astounded than Monique herself. Why her? Why now?
Monique is not exactly on top of the world. Her husband has left her, and her professional life is going nowhere. Regardless of why Evelyn has selected her to write her biography, Monique is determined to use this opportunity to jumpstart her career.
Summoned to Evelyn's luxurious apartment, Monique listens in fascination as the actress tells her story. From making her way to Los Angeles in the 1950s to her decision to leave show business in the '80s, and, of course, the seven husbands along the way, Evelyn unspools a tale of ruthless ambition, unexpected friendship, and a great forbidden love. Monique begins to feel a very real connection to the legendary star, but as Evelyn's story near its conclusion, it becomes clear that her life intersects with Monique's own in tragic and irreversible ways.