The Look BookCover Tag is a brand new tag created by Cerys over at Browsing for Books. This is a pretty labour-intensive tag, so I've split the ten prompts apart. This is the second batch of five, you can find my first five here, and all ten prompts over at Cerys' post. What I've found really interesting about doing this tag is that I've found the books I haven't read much easier than the ones I have. Maybe because I don't get caught up in whether the images actually fit the story as well as the cover? Anyway, these are such fun to do, I hope Cerys comes up with a second round.
"The aim of this book tag is to create a look book based off book covers. It's as simple as that. The way you create the lookbook is up to you. Get as creative as you want – make a Sims lookbook, make a lookbook from your own wardrobe, draw a lookbook!"
The Rules.
1. Choose a book that fits the question
2. Find clothes that you feel represents the cover in whatever way you want. This can be through the colours, the clothes on the cover, the mood of the cover – however you interpret it is right!
3. Show us the outfit!
4. TAG ME! I would love to see your guys' version of this tag. If you'd like, tag me on twitter (@mcgonagall) too, and I will RT and share every version of this tag that you guys do!
5. You do not have to do every question in this tag. Do what suits you. I spent a lot of time on this tag and if you feel like you could only manage 5 then pick the ones that fit you best!
If you're interested in taking part in this tag, consider yourself tagged by me and have a go.
The Look BookCover Tag
4. A book whose world you want to live in.
Record of a Spaceborn Few by Becky Chambers

5. A first book in a series that got you hooked.
A School for Unusual Girls by Kathleen Baldwin

6. A book that has been on your TBR for a long time.


8. A book you found confusing.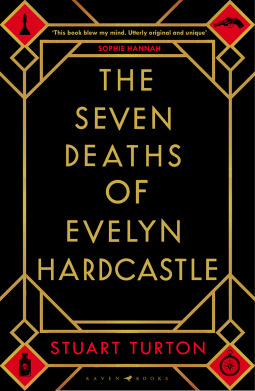 The Seven Deaths of Evelyn Hardcastle by Stuart Turton

9. A book you found funny/A fun book.
Witches Abroad by Terry Pratchett