The Blood Spell by C.J. Redwine
Expected Publication: February 12th 2019
Genres: Young Adult, Fantasy, Retelling – Cinderella
Pages: 400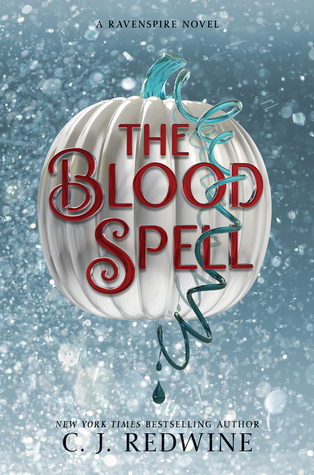 Blue de la Cour has her life planned: hide the magic in her blood and continue trying to turn metal into gold so she can help her city's homeless. But when her father is murdered and a cruel but powerful woman claims custody of Blue and her property, one wrong move could expose her—and doom her once and for all. The only one who can help? The boy she's loathed since childhood: Prince Kellan.
Kellan Renard, crown prince of Balavata, is walking a thin line between political success and devastating violence. Newly returned from boarding school, he must find a bride among the kingdom's head families and announce his betrothal—but escalating tension among the families makes the search nearly impossible. He's surprised to discover that the one person who makes him feel like he can breathe is Blue, the girl who once ruined all his best adventures.
When mysterious forces lead to disappearances throughout Balavata, Blue and Kellan must work together to find the truth. What they discover will lead them to the darkest reaches of the kingdom, and to the most painful moments of their pasts. When romance is forbidden and evil is rising, can Blue save those she loves, even if it costs her everything?
3 REASONS I'M EXCITED FOR THE BLOOD SPELL
The cover is beautiful! Possibly the nicest of the series? And it's a series with nice covers.
I read the Ravenspire series early last year. While it was a little hit and miss, I enjoyed each book more than the last, so I have high hopes for this one.
Cinderella. I find Cinderella retellings really interesting. She's often seen as one of the more "boring" princesses (I disagree) and it's always cool to see what spin a new author will put on the story and character. It's a delicate balance to keep the spirit of the original but bring it up to date and make it unique.
WWW WEDNESDAYS
What are you currently reading?
ebook: Fog Season by Patrice Sarath
Audiobook: House of Glass by Susan Fletcher
What did you recently finish reading? Blackberry and Wild Rose by Sonia Velton
What do you think you'll read next? I've only just started Fog Season so I think I'll be reading that for a while. I think I might go for another retelling next though, so probably Shadow of the Fox, Stain or Sisters of the Winter Wood. Which of those three would you go for?