GIRLS OF PAPER AND FIRE
NATASHA NGAN
SERIES: Girls of Paper and Fire #1
REPRESENTATION: Set in a Malaysian-inspired world, the protagonist is in a f/f relationship
GENRES/ SUBJECTS: YA, Fantasy
★★★★
GOODREADS — WORDERY — BOOKDEPOSITORY
Trigger Warning: rape, violence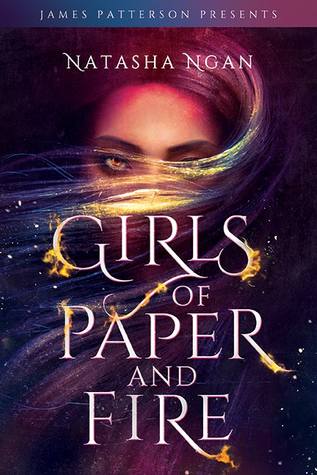 Each year, eight beautiful girls are chosen as Paper Girls to serve the king. It's the highest honor they could hope for…and the most cruel.
But this year, there's a ninth girl. And instead of paper, she's made of fire.
In this lush fantasy, Lei is a member of the Paper caste, the lowest and most oppressed class in Ikhara. She lives in a remote village with her father, where the decade-old trauma of watching her mother snatched by royal guards still haunts her. Now, the guards are back, and this time it's Lei they're after–the girl whose golden eyes have piqued the king's interest.
Over weeks of training in the opulent but stifling palace, Lei and eight other girls learn the skills and charm that befit being a king's consort. But Lei isn't content to watch her fate consume her. Instead, she does the unthinkable–she falls in love. Her forbidden romance becomes enmeshed with an explosive plot that threatens the very foundation of Ikhara, and Lei, still the wide-eyed country girl at heart, must decide just how far she's willing to go for justice and revenge.
It's been a month since I've read Girls of Paper and Fire and I've upped and downed my rating for it about a dozen times. Overall, I really enjoyed the book and I'm tempted to 5-star it but there were a couple of things that just niggled at me and it's gradually crept down to a four. I think part of the problem is that this was one of my top three most anticipated books of 2018, and I maybe just didn't get the suckerpunch love I was expecting and hoping for.
What I loved.
The Paper girls. I really liked how varied the girls all were, and how — even the girls which were very different personality-wise from the protagonist — were written with a certain level of respect (e.g. the aloof and catty Blue, or sweet but gullible Aoki. As Lei grew to appreciate all the girls, I felt like we got to understand their different viewpoints and strengths. I loved that ultimately there were so many female characters supporting each other, but that there was also some strong opposition.
I thought the culture of rape and the oppression the Paper girls faced from just about every angle was incredibly well handled. Although there are a few scenes which toe the line on graphic description, the assault scenes and sexual coercion never felt played for shock value or titillation. Ngan uses what Lei is going through to hammer home her points and in ways which felt like it fitted the story she was telling.
What I disliked.
I don't know… I just felt like most all of the characters (not so much Lei, but yes… even her occasionally) just came off as a little flat and shallow in terms of personality. I didn't really like we really dug into them. And, as a result, I found it difficult to really care about what Lei and Wren were trying to achieve, or to really care about the plight of the Paper Caste in society.
This book did a lot of things really well — it gets massive points for creativity and for ambition — so although I didn't adore it the way I expected to, I'm still really eager to see what Ngan has planned for the sequel.
More From Other Bloggers