The Cerulean by Amy Ewing
Expected Publication: February 5th 2019
Genres: Young Adult, Fantasy
Pages: 496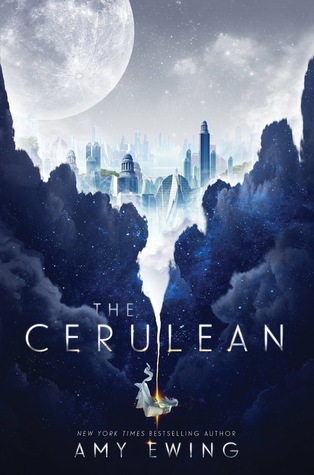 Sera has always felt as if she didn't belong among her people, the Cerulean. She is curious about everything and can't stop questioning her three mothers, her best friend, Leela, and even the High Priestess. Sera has longed for the day when the tether that connects her City Above the Sky to the earthly world below finally severs and sends the Cerulean to a new planet.
But when Sera is chosen as the sacrifice to break the tether, she doesn't know what to feel. To save her City, Sera must throw herself from its edge and end her own life. But something goes wrong and she survives the fall, landing in a place called Kaolin. She has heard tales about the humans there, and soon learns that the dangers her mothers warned her of are real. If Sera has any hope to return to her City, she'll have to find the magic within herself to survive.
3 REASONS I'M EXCITED FOR THE CERULEAN
The cover is just so pretty! I love all the icy shades of blue against the dark smoke.
"To save her City, Sera must throw herself from its edge and end her own life." This sounds like a dramatic ending, but since it's actually how the story kicks off, I'm super excited to see where it goes from here.
Apparently there's a "sapphic utopia", polygamous moms and general ell-round queerness?
WWW WEDNESDAYS
What are you currently reading?
ebook: Blackberry and Wild Rose by Sonia Velton
Audiobook: House of Glass by Susan Fletcher
I've just started both of these, so I'm not really sure how I'm going to feel about them, but I'm enjoying both so far.
What did you recently finish reading?
Rosemary and Rue (October Daye #1) by Seanan McGuire
This was the first book in the October Daye readalong. It's a pretty damn solid first instalment with lots of thing to explore in later books. If you want to catch up and join in, we'll be group reading the second book next month.
What do you think you'll read next? 
Like I say, I've only started my current reads, so I've not decided what to read next.