Death Prefers Blondes by Caleb Roehrig
Expected Publication: January 29th 2019
Genres: Young Adult, Mystery
Pages: 448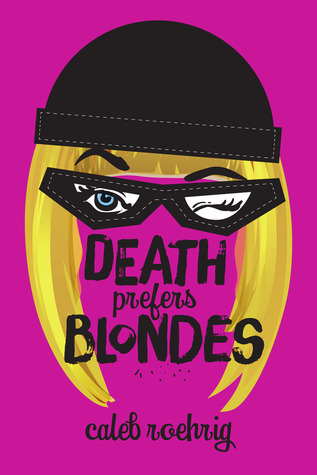 Teenage socialite Margo Manning leads a dangerous double life. By day, she dodges the paparazzi while soaking up California sunshine. By night, however, she dodges security cameras and armed guards, pulling off high-stakes cat burglaries with a team of flamboyant young men. In and out of disguise, she's in all the headlines.
But then Margo's personal life takes a sudden, dark turn, and a job to end all jobs lands her crew in deadly peril. Overnight, everything she's ever counted on is put at risk. Backs against the wall, the resourceful thieves must draw on their special skills to survive. But can one rebel heiress and four kickboxing drag queens withstand the slings and arrows of truly outrageous fortune? Or will a mounting sea of troubles end them — for good?
3 REASONS I'M EXCITED FOR DEATH PREFERS BLONDES
I love the funky, stylised cover and the punny, attention-grabbing title.
It's a heist. Don't we all love heist stories? I don't know, it feels like it. This one has been comp'ed to Ocean's 11, and more specifically, Ocean's 8. So I'm in!
It looks queer AF. Bisexual girl and a team of gay guys sounds so cool. I say a few mixed reviews for Roehrig's last book, so I'm keen to see how the bi rep in this one plays out.
WWW WEDNESDAYS
What are you currently reading?
ebook: An eARC of A Curse So Dark and Lonely by Brigid Kemmerer. This was my first TBR jar pick for the Devour Your TBR group challenge.
Audiobook: Still The Afterlife of Holly Chase by Cynthia Hand. Carried over from last year. I haven't had a chance to do much listening over the holidays.
What did you recently finish reading? The Matrimonial Advertisement by Mimi Matthews was my first book of the year and I loved it!
What do you think you'll read next? The Girl King by Mimi Yu or Blackberry and Wild Rose by Sonia Velton. I have arcs of both and they're due this month.