Evermore by Sara Holland
Expected Publication: December 31st 2018
Genres: YA Fantasy
Pages: 368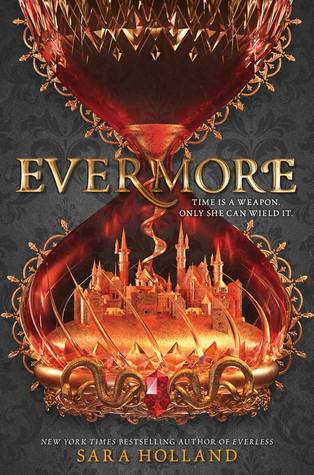 Jules Ember was raised hearing legends of the ancient magic of the wicked Alchemist and the good Sorceress. But she has just learned the truth: not only are the stories true, but she herself is the Alchemist, and Caro—a woman who single-handedly murdered the Queen and Jules's first love, Roan, in cold blood—is the Sorceress.
The whole kingdom believes that Jules is responsible for the murders, and a hefty bounty has been placed on her head. And Caro is intent on destroying Jules, who stole her heart twelve lifetimes ago. Jules must delve into the stories that she now recognizes are accounts of her own past. For it is only by piecing together the mysteries of her lives that Jules will be able to save the person who has captured her own heart in this one.
WHY I'M EXCITED FOR EVERMORE
I loved Everless. The premise was really interesting and there were some interesting things hinted at to come towards the end.
Everless was my first 5-star read of this year. I'm hoping Evermore can repeat that.
It's a duology. I love duologies. The perfect spot between standalones and my usual awkward second book stall.
WWW WEDNESDAYS
What are you currently reading?
ebook: Girls of Paper and Fire (Girls of Paper and Fire #1) by Natasha Ngan
Audiobook: Lies Sleeping (Peter Grant, #7) by Ben Aaronovitch
What did you recently finish reading? 
Pies and Prejudice (Charmed Pie Shoppe Mysteries #1) by Ellery Adams
What do you think you'll read next?
If I finish my Mythothon books before the first, I'll probably just take a break until the 1st to be honest: it's been a hectic reading month. My first book for the Cloak and Dagger Readathon and The 12 Days of Cozmas will probably be Miss Blaine's Prefect and the Golden Samovar by Olga Wojtas because I'm waiting for the rest to arrive via the mail/ the library.