STITCHES AND WITCHES
NANCY WARREN
SERIES: The Vampire Knitting Club, #2
GENRES/ SUBJECTS: Cozy Mystery, Paranormal
★★★★☆
Previous reviews in this series: The Vampire Knitting Club (#2)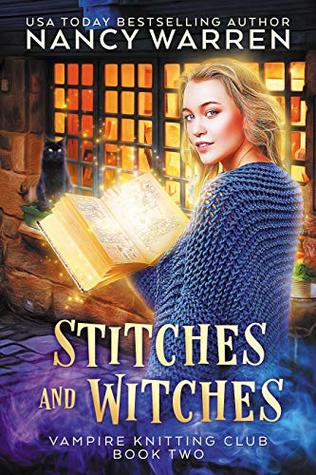 Dropping stitches and catching killers
When an older gentleman keels over in his scones and tea at the Elderflower Tea Shop in Oxford—a victim of poison—Lucy Swift and her band of undead amateur detectives are on the case.
Elderflower Tea Shop is next door to Cardinal Woolsey's, the yarn shop Lucy runs and home to the late-night Vampire Knitting Club. The tea shop owners are a pair of octogenarian spinsters and old family friends, so Lucy wants to help clear up the mystery that's keeping their shop closed. But murder isn't the only issue troubling the Miss Watts. A man has come between them. Miss Florence Watt is being romanced by an old flame, one Mary Watt distrusts.
In between figuring out who, among his many enemies, might have poisoned the unpleasant Colonel Montague, Lucy's trying to brush up on her magic spells before the Wiccan potluck dinner her witchy cousin insists she attend.
However, she's still settling into being a witch and since she botched a spell and blew up her kitchen, she's taking the magic slowly.
Her knitting endeavors aren't much better. Between purling when she should knit and dropping so many stitches her hand-knit scarf looks like it was attacked by giant moths, there are days Lucy thinks she'll pack it all in and move back to Boston. She might, except she'd miss her beloved undead grandmother, her new friends, one very sexy vampire and a local detective who is very much alive.
The second book in The Vampire Knitting Club mystery series is just as good as the first!
I think I mentioned in my review for the first book that I really enjoyed the cast of supporting characters and that's my favourites were the elderly spinster sisters who live and work in the tearoom next door to the knitting shop. The Miss Watts' were really interesting and I wanted to see more of them.
This book delivered because it's kind of all about them!
I really enjoyed seeing a sibling relationship that was focused on older characters. I think the Miss Watts' are in their seventies or eighties? It's great to see a relationship between sisters that's not in a Middle Grade or even a YA novel. I also really liked the relationship between sisters. Especially because it was very complex and felt very real. The sisters obviously love each other, and they work together each and every day, but when tragedy strikes, it turns out there are lots of secrets and things hidden under the surface which complicate matters.
In this book, we also get to see a little bit more of the various vampires in the knitting circle and learnt a little bit more about some of them. We get to see a slightly different side of sexy Rafe too. He was a little bit more humanised in this one (if you can call it that). Instead of just mysteriously popping up whenever Lucy needs him, we actually went to his house (he has a swish house, not just the lair underneath the knitting shop) where the servants have worked for him their entire lives. Seeing him greet his pets and hearing the butler speak of him fondly was pretty cute.
Again, I thought Lucy was a great protagonist. She's definitely gutsy and impulsive — which she kind of needs to be to be a mystery protagonist — but she never feels like she's being stupid or making ridiculous choices. She does seem to be having some really bad luck in finding an assistant though, so hopefully, she'll have better luck in the next book.