The Disasters by M.K. England
Expected Publication: December 18th 2018
Genres: Young Adult, Science Fiction
Pages: 368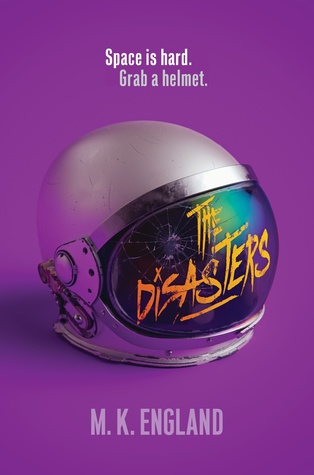 Hotshot pilot Nax Hall has a history of making poor life choices. So it's not exactly a surprise when he's kicked out of the elite Ellis Station Academy in less than twenty-four hours.
But Nax's one-way trip back to Earth is cut short when a terrorist group attacks the Academy. Nax and three other washouts escape—barely—but they're also the sole witnesses to the biggest crime in the history of space colonization. And the perfect scapegoats.
On the run and framed for atrocities they didn't commit, Nax and his fellow failures execute a dangerous heist to spread the truth about what happened at the Academy.
They may not be "Academy material," and they may not get along, but they're the only ones left to step up and fight..
3 REASONS I'M EXCITED FOR THE DISASTERS
Space Misfits. 

This just puts me in mind of Killjoys, Firefly, Saga etc.
I really like the cover. It's simple, but I love the strong purple and the unclutered design of just having the helmet

. Also, I know it's not an eighties-set book, but the font and lettering really gives me that vibe.
Diverse Cast. It sounds like this is going to have PoC and queer characters.
WWW WEDNESDAYS
What are you currently reading?
Audiobook: The Silent Companions by Laura Purcell
What did you recently finish reading?
The Making of a Marchioness by Frances Hodgson Burnett.
What do you think you'll read'm  next?
This month I'll be reading a combination of spooky Halloween books and my #Victober choices. I'll probably start the Wives and Daughters audiobook next, because it's really long, and then read other books around that.