SCARLET
A C GAUGHEN
SERIES: Scarlet #1
REPRESENTATION: Amputee Side Character (Hand)
GENRES/ SUBJECTS: YA Historical, Retelling – Robin Hood
★★★☆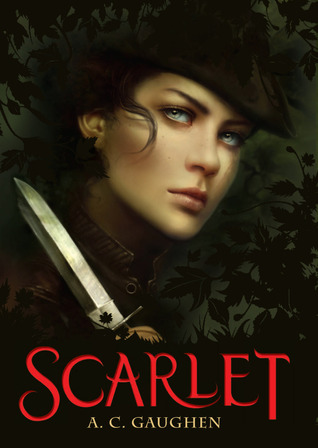 Will Scarlet is good at two things: stealing from the rich and keeping secrets – skills that are in high demand in Robin Hood's band of thieves, who protect the people of Nottingham from the evil sheriff. Scarlet's biggest secret of all is one only Robin and his men know…that she is posing as a thief; that the slip of a boy who is fast with sharp knives is really a girl.
The terrible events in her past that led Scarlet to hide her real identity are in danger of being exposed when the thief taker Lord Gisbourne arrives in town to rid Nottingham of the Hood and his men once and for all. As Gisbourne closes in and puts innocent lives at risk, Scarlet must decide how much the people of Nottingham mean to her, especially John Little, a flirtatious fellow outlaw, and Robin, whose quick smiles have the rare power to unsettle her. There is real honor among these thieves and so much more – making this a fight worth dying for.
---
I picked the audiobook of Scarlet and, to be honest, I listened to about five minutes before I put it down. I probably wouldn't have gone back to it except that I needed a Robin Hood retelling in for the reading challenge I was doing. The narrator's accent is very strong, and she uses it for all of the entire story, not just Scarlet's dialogue — so it was quite intense. From what I gather, the book itself has a lot of phonetic dialogue/narration too. When I went back, I did get the hang of it fairly quickly and I actually really enjoyed listening to her, but depending on what type of audiobook reader you are, this one might be a pass for you. I do think I've have given up permanently if I was reading Scarlet's patter in print all the time. Aside from being annoying, it makes no sense! She's the only character with any noticeable accent, and it reads like a cheap way to red-herring the plot-twist.
I wasn't overly impressed with the romance romantic relationships in this book. There's a bit of a love triangle going on in and to be honest neither of the guys involved behaves in a way that particularly endeared them to me. They both seem to think they know what Scarlet wants more than she does.
But aside from that, I really enjoyed this Robin Hood retelling. I really liked Scarlet as a character. She was strong and tough, and determined to play her part in the gang. From other Goodreads reviews, I saw a few reviewers were put off by the discrepancies in her characterisation — blushing girl with a crush to deadly assassin — but I really liked her. I thought she felt really relatable and was intriguing to follow.
I don't really have much to say about Scarlet, other than it really surprised me and I found it an enjoyable, action-packed story. What I will say is that as soon as I finished Scarlet, I popped back on Audible and got myself the second book, Lady Thief. I started it within about 10 minutes, which should tell you a lot. I have high hopes for the rest of this series.