WINTER
MARISSA MEYER
SERIES: The Lunar Chronicles #4
GENRES/ SUBJECTS: YA Science-Fiction, Retelling
★★★★★
Previous Reviews: Scarlet (#2) and Cress (#3).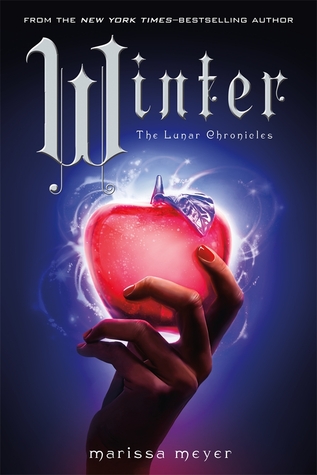 Princess Winter is admired by the Lunar people for her grace and kindness, and despite the scars that mark her face, her beauty is said to be even more breathtaking than that of her stepmother, Queen Levana.
Winter despises her stepmother, and knows Levana won't approve of her feelings for her childhood friend–the handsome palace guard, Jacin. But Winter isn't as weak as Levana believes her to be and she's been undermining her stepmother's wishes for years. Together with the cyborg mechanic, Cinder, and her allies, Winter might even have the power to launch a revolution and win a war that's been raging for far too long.
Can Cinder, Scarlet, Cress, and Winter defeat Levana and find their happily ever afters? Fans will not want to miss this thrilling conclusion to Marissa Meyer's national bestselling Lunar Chronicles series.
---
Winter is an epic, and incredibly powerful,  finish to The Lunar Chronicles. I had few little niggles that I'm going to point out but it was still a fantastic read and — especially given how much I've enjoyed this series — I couldn't bring myself to drop it below a five-star rating.
The first niggle is that it is a massive book. I think the hard cover book comes in at 827 pages. This would be a long book for most series (baring Mistborn, Game of Thrones etc.) but considering the last book, Cress, was 552 and the first two books fell within the 400s, Winter is a massive jump. I think there was probably enough extra material that a couple of hundred pages could have been trimmed or, considering how popular the series was when it came out, I'm not entirely sure why the it couldn't have been split in two and The Lunar Chronicles made into a quintet. Especially considering that The Lunar Chronicles is a YA series (and not one  that overly nudges into being adult) 800 pages is excessive.
The other thing is that the "disfigured/unattractive" villain comes into play. Meyer does do a bit of explaining around it, with Cinder thinking that Levana is ugly on the inside etc. Winter did come out three years ago, so that might have affected my reading, but especially after the discussion around Dr Poison in last year's Wonder Woman movie, I just feel like the disfigured female villain is a little overdone as a trope.
However, Winter was a fabulous and exciting read.  Scarlet, Cress and Cinder are as awesome as always and each has given time to shine, and to have their strengths and weaknesses displayed. Each has an important role to play in Cinder's revolution. I really liked the addition of Winter. She's a really interesting character and totally different from the other three girls. One of the things I love about this series is that each girl as their distinct personality and strengths, and it shows different types of female strength. Winter's strength is a little less obvious than the other girls, but I found her compelling and charming. The male characters, as always are the support, and while each one gets their moments, the women are really the stars of this series.
One of the things I do find a little odd, is that The Lunar Chronicles has a very "Harry Potter epilogue" problem, where each girl falls instantly in love with a matched counterpart, and they all perfectly line up at the end of the series. I would normally have a problem with this, but I think because each girl had their own book and the relationships were developed one at at a time,  it doesn't feel as uncomfortable. Also, and this is just my personal feelings, I really love each pairing. It says a lot for Meyer's writing that I wouldn't change any, and that I'm not sure which couple is my favourite. However, this is something that might be a problem for some people. It also drew my attention to the fact that the series has no queer characters. In the whole world — and moon — apparently…
I really enjoyed this series, but I think I'm glad I read at my own pace, instead of when it was being released and was being really hyped. I think if I had to wait between Cress and Winter I might have forgot details or lost steam. Instead, this was an action-packed, high-stakes finale worthy of the series.