BENEATH THE SUGAR SKY
SEANAN MCGUIRE
SERIES: Wayward Children, #3
REPRESENTATION: Fat MC, Mexican character, Mixed Race White-Japanese character, amputee character and hijabi Muslim character
GENRES/ SUBJECTS: YA Fantasy
★★★★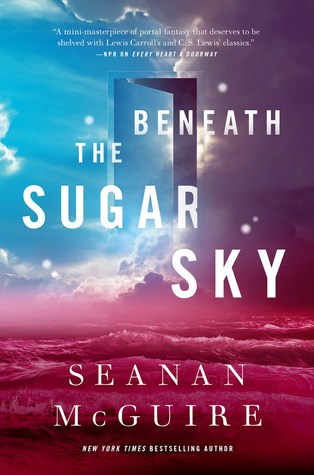 When Rini lands with a literal splash in the pond behind Eleanor West's Home for Wayward Children, the last thing she expects to find is that her mother, Sumi, died years before Rini was even conceived. But Rini can't let Reality get in the way of her quest – not when she has an entire world to save! (Much more common than one would suppose.)
If she can't find a way to restore her mother, Rini will have more than a world to save: she will never have been born in the first place. And in a world without magic, she doesn't have long before Reality notices her existence and washes her away. Good thing the student body is well-acquainted with quests…
A tale of friendship, baking, and derring-do.
---
Beneath the Sugar Sky is the third in the Wayward Children series set around the adventures of students at Eleanor West's School for Wayward Children. You don't have to have read the other books to enjoy this one — I read this before reading Down Among the Sticks and Bones — but reading the first book would probably help as there are a couple of spoilers mentioned.
For me, the two strongest elements of Beneath the Sugar Sky were the settings and the characters.
The writing is wonderfully descriptive without being overblown, and paints worlds which are beautiful and vividly rendered. Aside from a brief introduction at the School, Beneath the Sugar Sky features two very different 'portal' worlds. There's Nancy's Land of the Dead which is still, quiet and serene. I could practically hear the soft footsteps echoing along the silent marble halls. Then, there's Sumi and Rini's Confection, where most of the action takes place. It was bright and colourful, with a hint of danger lurking underneath it all. The whole thing was so good and so clear in my mind: the perfect combination of Alice in Wonderland and Sugar Rush in Wreck-It Ralph.
The characters were a mix of old and new. The protagonist is Cora, a positively portrayed fat girl, who's came back from an underworld world. I loved that this was tied into plot and world-building. Being fat in Cora's world was an advantage as she could handle cold better, and her fatness doesn't stop her from being healthy or an athlete. There's also a trans boy, a Mexican boy, a half-Japanese girl, an amputee Russian girl and a hijabi Muslim girl. All of these things are mentioned and openly discussed within the text but never get in the way of the action.
Beneath the Sugar Sky has a slightly lighter tone than the previous books, skirting a little closer to whimsy (but not enough to put me off) which perfectly fits the sweets-and-candy filled story. I can't believe how much Seanan McGuire crams into these novellas and I hope the standalone adventures in this universe carry on for a long time.