THE QUEEN OF IEFLARIA
EFFIE CALVIN
SERIES: Tales of Inthya, #1
REPRESENTATION: Largely Bi/Pan Society, Fat Protagonist, FF Romance, Background Non-Binary Characters
GENRES/ SUBJECTS: Fantasy
★★★★☆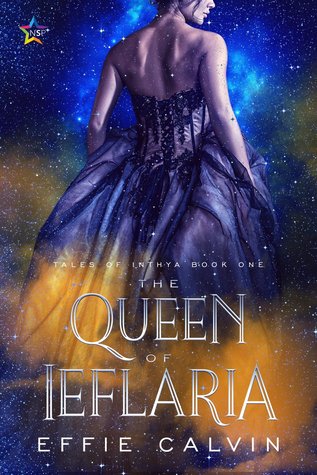 Princess Esofi of Rhodia and Crown Prince Albion of Ieflaria have been betrothed since they were children but have never met. At age seventeen, Esofi's journey to Ieflaria is not for the wedding she always expected but instead to offer condolences on the death of her would-be husband.
But Ieflaria is desperately in need of help from Rhodia for their dragon problem, so Esofi is offered a new betrothal to Prince Albion's younger sister, the new Crown Princess Adale. But Adale has no plans of taking the throne, leaving Esofi with more to battle than fire-breathing beasts.
---
The Queen of Ieflaria is quite a short book, only 171 pages, but it's packs a punch. The world-building Calvin has put in is really impressive, there's multiple kingdoms, political/religious systems and magic skills. In fact, there's a few things I wish I could of been fleshed out — merpeople, talking unicorns, the dragon Emperor and the dragon society, a separate elvish world — but I suspect that these things are being saved for future stories in this universe.
The romance/ relationship related world-building goes down my preferred route for queer SFF: it's set in a fantasy world, so there's absolutely nothing to stop you from believing that these two princesses falling in love would face no more opposition than any other couple. No homophobia! I love this. The Queen of Ieflaria has one of my favourite, classic tropes: opposites attract. Quiet and religious, formal, duty-driven Esofi and rebellious, outdoorsy Adale are adorable together. I loved how different they were, but how well they worked together. I sort of knew how this relationship was going to end up, but that was in no way a bad thing — it was all about the journey to get them there.
There were lots of other really cool elements: kitten's as apologies, sword-fighting in dresses, magical battles against dragons.
I'd recommend The Queen of Ieflaria to everyone. It's heartfelt, uplifting and exciting with compelling protagonists and a wide range of varied and fascinating supporting characters. I'm looking forward to reading more in this universe, and more about these characters.