"I Heart Characters! is a weekly meme hosted by  Dani @ Perspective of a Writer to showcase our book blogger love for characters! Each week she'll supply a topic and you'll supply the character."
August 16th – Creature You'd Want to Adopt (An animal or creature character you'd want as a companion.)
Mooncake from Final Space
I've actually only seen about half of this series at the moment (you can find the whole season up on Netflix) but I've already fallen in love with this little cutie. Final Space is a Netflix Original about an astronaut/ prisoner, Gary, and his friends (Avocato and Mooncake) as they go up against the evil Lord Commander and try to solve the mystery of  the 'Final Space'.
Mooncake is described as:
Mooncake is a new species of alien originally discovered by the Scarlet Lance fleet near a star about to go supernova. His discovery prompted the destruction of the Scarlet Lance by the Lord Commander after the ship refused to give him up. The Lord Commander subsequently began hunting him before the Final Space series begins.

When Gary finds him at the start of the series, he names Mooncake after a childhood pet; a caterpillar given to him by his father, John Goodspeed, before he passed on in front of his son and the caterpillar.
Five reasons Mooncake would make an awesome companion.
He's super, incredibly powerful. Like, planet destroyer powerful. Not a bad friend to have on hand, especially if you get into sticky situations while you're running around outerspace.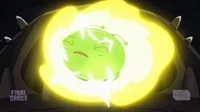 He doesn't really talk much. Think more along the lines of R2D2's beeps and whistles. So, he's not likely to interrupt my reading time.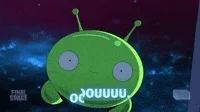 He can fly. And he's strong enough to carry people with him, so I could fly!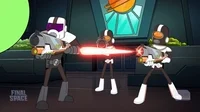 And you could fit him into a backpack to carry around if you needed to.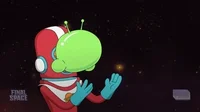 This week's prompt was A Creature You'd Want to Adopt.
Which character would you pick?