THE WITCH OF WILLOW HALL
HESTER FOX
SERIES: Standalone
GENRES/ SUBJECTS: YA Historical Paranormal Fantasy
★★★★★
TRIGGER WARNINGS: mentions of incest, miscarriage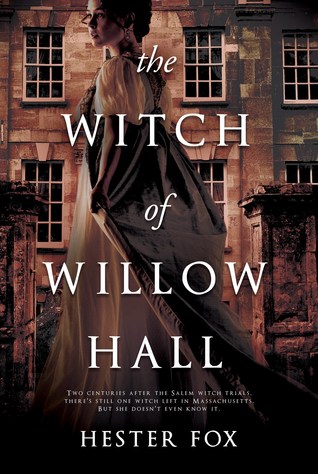 Two centuries after the Salem witch trials, there's still one witch left in Massachusetts. But she doesn't even know it.
Take this as a warning: if you are not able or willing to control yourself, it will not only be you who suffers the consequences, but those around you, as well.
New Oldbury, 1821
In the wake of a scandal, the Montrose family and their three daughters—Catherine, Lydia and Emeline—flee Boston for their new country home, Willow Hall.
The estate seems sleepy and idyllic. But a subtle menace creeps into the atmosphere, remnants of a dark history that call to Lydia, and to the youngest, Emeline.
All three daughters will be irrevocably changed by what follows, but none more than Lydia, who must draw on a power she never knew she possessed if she wants to protect those she loves. For Willow Hall's secrets will rise, in the end…
---
I'm dead.
No honestly, The Witch of Willow Hall has killed me.
I loved it so much.
It's a historical paranormal but for the large part of the novel the supernatural and magical elements are very subtle. It was almost like The Turn Of The Screw, or even Jane Eyre, in that there's a tangible atmosphere and lots of eerie goings-on but you could almost believe it was all the heroines head. The real supernatural stuff doesn't really ratchet up until about the two thirds mark.
Nonetheless, this didn't stop me absolutely adoring this book.
The story is really more about Lydia.
It's about her finding herself in this new, isolated community where she doesn't fit in, about her turbulent relationship with her family — and boy, what a family! The side characters are all so fascinating — and the soft, blossoming relationship she finds. It takes a lot to really sell me on a romance, it's usually the thing I'm the least interested and when I'm reading. This one stood out for me so much! If the atmosphere in The Witch of Willow Hall reminded me or Jane Eyre then Lydia and John could easily be the next Jane and Rochester, or Lizzy and Darcy. I loved the awkward, misunderstanding-filled relationship and watching it progress in a beautiful slow-burn. Right up to the end, I really wasn't sure how things were going to turn out.
I loved Lydia as a character. She's done a couple of really scary things, but she's never meant to be bad. It's interesting to consider how much of the magical things she did she was really aware of and how much her intentions play a part in some of the events. She starts out as a quiet, head-in-a-book pushover, overshadowed by her loud, brash (and in a bit of a predicament) sister Catherine. So much so, that she constantly caves to Catherine's wishes, getting herself into more and more trouble. I loved watching Lydia blossom, becoming strong and independent, standing up for herself and others.
As far as I'm aware, The Witch of Willow Hall is a stand-alone and it 100% stands alone as a wonderful book. That being said, I'm greedy and if Hester Fox ever wanted to go and write what happens to Lydia next, I would definitely read it. Failing that, she's definitely on my author watchlist now.