EMPRESS OF ALL SEASONS
EMIKO JEAN
SERIES: Standalone
GENRES/ SUBJECTS: YA, Fantasy
★★★★☆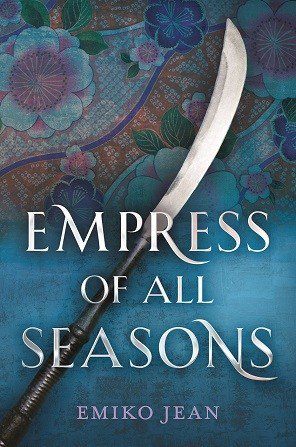 Each generation, a competition is held to find the next empress of Honoku. The rules are simple. Survive the palace's enchanted seasonal rooms. Conquer Winter, Spring, Summer, and Fall. Marry the prince. All are eligible to compete—all except yōkai, supernatural monsters and spirits whom the human emperor is determined to enslave and destroy.
Mari has spent a lifetime training to become empress. Winning should be easy. And it would be, if she weren't hiding a dangerous secret. Mari is a yōkai with the ability to transform into a terrifying monster. If discovered, her life will be forfeit. As she struggles to keep her true identity hidden, Mari's fate collides with that of Taro, the prince who has no desire to inherit the imperial throne, and Akira, a half-human, half-yōkai outcast.
Torn between duty and love, loyalty and betrayal, vengeance and forgiveness, the choices of Mari, Taro, and Akira will decide the fate of Honoku in this beautifully written, edge-of-your-seat YA fantasy.
---
Empress of All Seasons is a really amazing example of a stand-alone fantasy novel. Everything is wrapped up by the end and although it doesn't necessarily explain the post-novel period in great detail, it does wrap up the storyline enough to give you a sense of closure.
And what an ending it is! Jean pulls off a whole bunch of impressive twists. I was constantly guessing and thrown through loops. Nothing turned out the way I was expecting.
As much as I loved the way the story ended — and as much as I'm all for standalone novels, especially fantasy (and I sort of hate myself for saying this) — I think the Empress of All Seasons would have worked maybe a little bit better as a duology. I think it could have been good to have the story split into Book One: focusing mostly on the contest itself, and Book Two: focusing on the rebellion. As much as I adored Jean's worldbuilding — and I did — I just didn't connect to the characters as much as I might have liked. Perhaps there had been a little more downtime or to get to know the characters, then I would have felt a better connection to them overall.
I loved Jean's worldbuilding. It was wonderful. I would have really liked if we had spent a little more time in the Season Rooms. That was what sold me on the book and, although they were cool, I had expected them to get a lot more page time. I really loved the yōkai which I hadn't really expected to be as prominent. I loved all the different types and seeing the various powers they had. I loved the idea of the yōkai rebellion. Again, I think this could have been given more attention. It was really interesting and if the book had been longer we could have spent a little more time getting to know the different factions.
All that being said, Empress of All Seasons is simply a marvellous book, and the fact that I would want to make a few changes are just because I liked it so much and felt it had even more potential.