ARU SHAH AND THE END OF TIME
ROSHANI CHOKSHI
SERIES: Pandava Quartet #1
REPRESENTATION: Two Indian-American MCs, Hindu Mythology
GENRES/ SUBJECTS: MG, Fantasy Adventure
★★★☆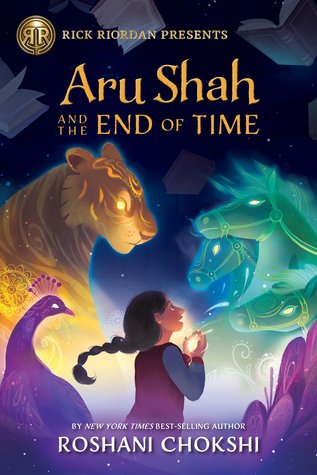 Twelve-year-old Aru Shah has a tendency to stretch the truth in order to fit in at school. While her classmates are jetting off to family vacations in exotic locales, she'll be spending her autumn break at home, in the Museum of Ancient Indian Art and Culture, waiting for her mom to return from her latest archeological trip. Is it any wonder that Aru makes up stories about being royalty, traveling to Paris, and having a chauffeur?
One day, three schoolmates show up at Aru's doorstep to catch her in a lie. They don't believe her claim that the museum's Lamp of Bharata is cursed, and they dare Aru to prove it. Just a quick light, Aru thinks. Then she can get herself out of this mess and never ever fib again.
But lighting the lamp has dire consequences. She unwittingly frees the Sleeper, an ancient demon whose duty it is to awaken the God of Destruction. Her classmates and beloved mother are frozen in time, and it's up to Aru to save them.
The only way to stop the demon is to find the reincarnations of the five legendary Pandava brothers, protagonists of the Hindu epic poem, the Mahabharata, and journey through the Kingdom of Death. But how is one girl in Spider-Man pajamas supposed to do all that? 
---
Aru Shah and the End of Time is such a feel-good adventure story.  It's one of the Rick Riordan Presents imprints and, while I don't want to linger over Riordan and his books here, I really do think readers who love Percy Jackson, Magnus Chase and that universe will enjoy Aru Shah and the End of Time just as much. It's more along the lines writing-wise as the original Percy series (kind of Middle Grade rather than YA) in that it has that slightly episodic, adventure, comedic-take-on-mythology thing going on which was really strong in the first few Percy Jackson books.
Obviously, the great thing about Aru Shah and the End of Time is that it opens up the franchise even more by having the two — because Aru's new friend, Mini, is a key character as well — main characters be Indian-American girls. The Hindu mythology was new to me, but I never felt lost, or that Chokshi was over explaining. She has a very delicate touch: it's woven throughout the story and is completely essential to the plot.
I loved Aru. She's is a great protagonist: funny and imperfect. I absolutely adored the friendship/awkward encounter thing that she has with Mini. Both are so different but both are well-developed and relatable.
I hate the idea of "boy books/ girl books", so I'm not going to say that Aru Shah is Percy Jackson for girls — it's definitely for all genders and, most likely, all ages. However, I think that if there are any young readers that maybe didn't want to touch a "boy's book", Aru Shah and the End of Time is going to open doors for them, and give them the same exciting experience that so many of us had reading Percy Jackson and the Lightning Thief.