SEA WITCH
SARAH HENNING
SERIES: Standalone
GENRES/ SUBJECTS: YA Fantasy, Retelling – The Little Mermaid
★★★☆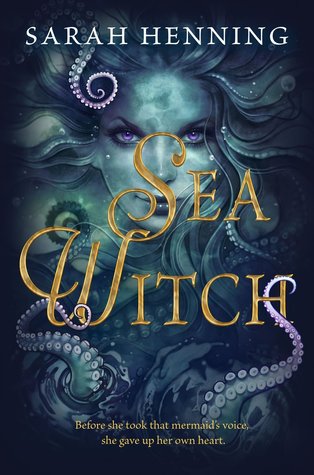 Ever since her best friend, Anna, drowned, Evie has been an outcast in her small fishing town. A freak. A curse. A witch. 
A girl with an uncanny resemblance to Anna appears offshore and, though the girl denies it, Evie is convinced that her best friend actually survived. That her own magic wasn't so powerless after all. And, as the two girls catch the eyes—and hearts—of two charming princes, Evie believes that she might finally have a chance at her own happily ever after.
But her new friend has secrets of her own. She can't stay in Havnestad, or on two legs, unless Evie finds a way to help her. Now Evie will do anything to save her friend's humanity, along with her prince's heart—harnessing the power of her magic, her ocean, and her love until she discovers, too late, the truth of her bargain. 
---
Sea Witch is a half-prequel-half-retelling of The Little Mermaid but it shakes up the story enough that although there are elements of the original it's different enough to completely stand as its own story.
One of my favourite things about Sea Witch was the world-building. It's set in Denmark, keeping the spirit of original Hans Christian Andersen tale at the forefront. There's lots of depth created by the food they eat and, the festivals they celebrate. Another thing I really really liked was the friendship between the three main characters — especially in the first three-quarters of the book. There's really great, completely devoted, friendship between Evie and (originally Anna, and then) Annemette. It's nice to see female friendships in books, especially this kind — where Evie is so desperate to save Anna and puts it ahead of her blossoming romance with Iker. Similarly, it was nice to see a relationship between two opposite-sex characters which didn't seem (at first) to be romantically motivated. For most of the book, Evie and Nik are just friends. They care about one another but they also care about each other's happiness — and one point Evie mentions valuing Nik's happiness over her own.
There's a twist in Sea Witch, roughly about the three-quarter mark that was brilliant. I never saw it coming, and it took me completely by surprise. It added a whole level of depth to what could have been a fairly predictable story. The only problem I had with this twist wasn't so much for the plot itself, but for the impact it had on the characters. The originality of the friendships just mentioned are kind of ruined by this twist. Instead of a female friendship, it becomes the standard trope of two girls fighting over a boy's attention. And, of course, the male-female friendship becomes "I loved you all along…". But it was a really good twist and it makes Sea Witch really unique. So I'm not entirely sure how I feel about that.
Overall, Sea Witch is an entertaining read — I got through the whole thing in an afternoon. The plot moves along quickly and the characters are likeable (both Nik and Evie are precious cinnamon rolls). The romance is beautifully tragic, dark and bittersweet. It's always nice to see a story from a villain's point of view, although you could argue that in this particular case Evie isn't really a villain — there's no descent onto darkness or malice in her misguided actions. Still, it's a good book and it's got a nice twist to distinguish it from all the other mermaid books at the moment.