GRAVE MERCY
ROBIN LAFEVERS
SERIES: His Fair Assassin #1
GENRES/ SUBJECTS: YA Historical Fantasy
★★★
TRIGGER WARNINGS: Rape, attempted sexual assault of a minor.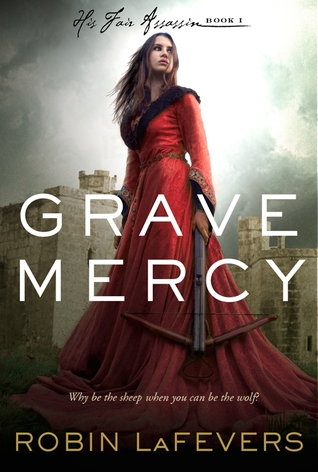 Why be the sheep, when you can be the wolf?
Seventeen-year-old Ismae escapes from the brutality of an arranged marriage into the sanctuary of the convent of St. Mortain, where the sisters still serve the gods of old. Here she learns that the god of Death Himself has blessed her with dangerous gifts—and a violent destiny. If she chooses to stay at the convent, she will be trained as an assassin and serve as a handmaiden to Death. To claim her new life, she must destroy the lives of others.
Ismae's most important assignment takes her straight into the high court of Brittany—where she finds herself woefully under prepared—not only for the deadly games of intrigue and treason, but for the impossible choices she must make. For how can she deliver Death's vengeance upon a target who, against her will, has stolen her heart?
---
I don't have particularly strong feelings about Grave Mercy. It was an interesting book to the degree that I wanted to keep reading it — I wanted to find out who was behind the political intrigue and see the romance develop – but I don't know how much it stand out from similar YA fantasy. I do think it's slightly mis-sold. The idea of a convent of assassin nuns isn't as central to the plot as I would have thought. This is far more a historical fantasy with the emphasis on political intrigue and maneuverings, rather than on vengeance, stabbing and bloodshed. In that, if you're expecting something along the lines of Mia from Nevernight, you're going to be disappointed.
Despite the fact that there wasn't quite as much action as I had originally expected I did enjoy the story. I think the characters were the greatest strength. I really liked the protagonist, Ismae, along with the Duchess of Brittany, her little sister Isabella, and the love interest, Duval. I liked the difference dynamics and relationships between them. They all feel like they developed slowly, over time and in a believable manner. Even though you could see the romance coming a mile off, it was given time for the characters to warm to each other and by the time they got on board if felt convincing. And you know I often struggle to get onboard with the love interests in this type of book. 
The one thing I really can't get over is the fact that this big, exciting assassin-nun thing really doesn't feature heavily. Ismae is sold from an abusive father to an abusive husband and then rescued by these warrior nuns. At that point I really would have expected something of training-montage-tape-thing — where we get to see all their secrets and her life there. Instead we get: Three Years Later. Infuriatingly, much later we get a snippet in a single sentence which says that Ismae and two other girls used to spend time stealing such-and-such when they were meant to be working. I wanted to see it.
The world-building is interesting — sort of set in the Medieval period as Brittany fights to maintain independence from France. The mystery of who's sabotaging the Duchess's marriage alliances and which of the suitors she might end up with is intriguing. There's a great atmosphere of covert danger and secrecy.
However, I think next book follows a different character, so I'm not entirely sure how I feel about that. Since they speak didn't really go into any depth on the other girls at the Abbey (or give me that 'getting to know you' training period) I don't really feel that I have anything interested in continuing the series once the characters that I got to know in Grave Mercy aren't the focus… We'll see.