THE SEVEN HUSBANDS OF EVELYN HUGO
TAYLOR JENKINS REID
SERIES: Standalone
REPRESENTATION: Bisexual Cuban-American Protagonist, Mixed Race (Black/white) Protagonist, Lesbian Love Interest, Gay Side Characters
GENRES/ SUBJECTS: Historical (1950s-Present Day), Romance, Faux-Memoir
★★★★★
TRIGGER WARNINGS: Domestic violence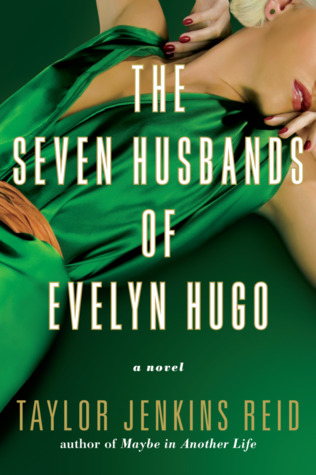 Evelyn Hugo is finally ready to tell the truth about her glamorous and scandalous life. But when she chooses unknown magazine reporter Monique Grant for the job, no one in the journalism community is more astounded than Monique herself. Why her? Why now?
Monique is not exactly on top of the world. Her husband, David, has left her, and her career has stagnated. Regardless of why Evelyn has chosen her to write her biography, Monique is determined to use this opportunity to jumpstart her career.
Summoned to Evelyn's Upper East Side apartment, Monique listens as Evelyn unfurls her story: from making her way to Los Angeles in the 1950s to her decision to leave show business in the late 80s, and, of course, the seven husbands along the way. As Evelyn's life unfolds through the decades—revealing a ruthless ambition, an unexpected friendship, and a great forbidden love—Monique begins to feel a very a real connection to the actress. But as Evelyn's story catches up with the present, it becomes clear that her life intersects with Monique's own in tragic and irreversible ways. 
---
I'm going to be honest, and say I only picked up The Seven Husbands of Evelyn Hugo because it's been so highly recommended by so many of the bloggers that I really respect. Based on its summary, is probably not a book I'd have chosen — it's a faux-memoir, about an actress in Hollywood, set mostly between the 50s and 80s. None of these are things that generally draw me to a story. In fact, any one of them would usually be enough to make me put down an otherwise appealing book. However, I am so glad that I believed the hype on this one and that I gave it a shot.
I loved everything about this book, even the things I thought I wouldn't. I loved the dynamic between interviewer and interviewee that Reid creates between Monique and Evelyn. I loved the early setting in the 1950s right up through the present day. The author's world-building is incredible. She manages to capture the glitz and glamour of Hollywood as well as the seedy, manipulative underbelly that Evelyn is desperate to convey.
I loved Evelyn. She's the star of the show — both in the story itself, and as the protagonist of this book. She's fascinating and complex and deeply understandable. She does some things at various points that might be seen as pretty morally questionable (whether it's marrying for convenience, using her looks to get ahead or manipulating the public image of her), but I never for a second thought badly of her for her choices. I absolutely loved her. She's my favourite type of character and utterly unapologetic about it.
I also really enjoyed the relationships Evelyn forms, both in the present day with Monique — which evolves from hero worship to a kind of mentor/mentee — and in the memoir portions. I adored the heart-wrenching romance with Celia. I saw someone on Goodreads say that this isn't a "LGBT book" and it definitely fucking is. It's just not the issue-driven, coming out or what-a-tragic-but-inspiring-life books some people seem to expect whenever a character is gay. It's beautiful and subtle and gorgeous, and although not always happy per se, I wouldn't class this as a "sad, tragic queers" story. The book handles her relationship with each of the husbands (even the ones that got only a few pages of screen time or were horrible people) really well — each of the seven is really interesting and has both a purpose in the story and in telling us more about Evelyn. One of my favourite relationships (after Celia) was Evelyn and Harry. It was such a perfect friendship — bittersweet, obviously, because they had to marry as a front — but that relationship itself was such a true friendship and it was lovely to read about how devoted they were in a completely platonic way.
The question of "Name a book you would recommend to anyone", is one that comes up a lot in blogger tags and questionnaires. I really struggle with it because everyone has different tastes and different interests, and no one book can usually be recommended universally to everyone. However, I think I would now put The Seven Husbands of Evelyn Hugo into that category. I'm not saying everyone's going to enjoy it, or that it's going to work for everyone. But, it shouldn't have worked for me either, and I ended up absolutely loving it. I thoroughly recommend the audio version. It has three narrators Evelyn (obviously telling her story), Monique (telling the parts during the interviews) and one voicing the excerpts and newspaper headlines about Evelyns's life throughout the story. And it goes to show just how much I enjoyed The Seven Husbands of Evelyn Hugo, that before I had even reached the last hour of the audiobook I was already online, ordering myself a hardback copy in case I ever want to read it in a physical copy.
Definitely a new favourite.
Unrelated note: I don't know about everywhere else, but for me looking from the UK, the hardcover edition of this book seems to be priced unusually highly. If that's been putting you off, the recently released paperback is less than half the price and has a very nice cover.