WE ARE THE ANTS
SHAUN DAVID HUTCHINSON
SERIES: Standalone
GENRES/ SUBJECTS: YA, Science-Fiction, Contemporary
REPRESENTATION: Depressed Gay MC, Latinx Bisexual LI
★★★★★
TRIGGER WARNINGS: Attempted rape, discussion of suicide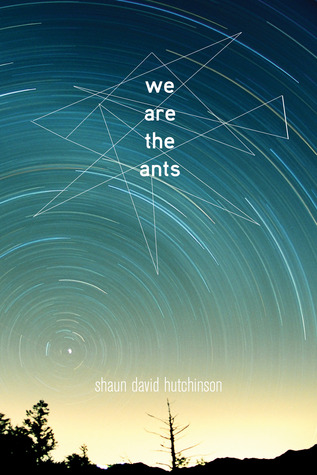 Henry Denton has spent years being periodically abducted by aliens. Then the aliens give him an ultimatum: The world will end in 144 days, and all Henry has to do to stop it is push a big red button.
Only he isn't sure he wants to.
After all, life hasn't been great for Henry. His mom is a struggling waitress held together by a thin layer of cigarette smoke. His brother is a jobless dropout who just knocked someone up. His grandmother is slowly losing herself to Alzheimer's. And Henry is still dealing with the grief of his boyfriend's suicide last year.
Wiping the slate clean sounds like a pretty good choice to him.
But Henry is a scientist first, and facing the question thoroughly and logically, he begins to look for pros and cons: in the bully who is his perpetual one-night stand, in the best friend who betrayed him, in the brilliant and mysterious boy who walked into the wrong class. Weighing the pain and the joy that surrounds him, Henry is left with the ultimate choice: push the button and save the planet and everyone on it…or let the world—and his pain—be destroyed forever.
---
We Are the Ants it is difficult to describe, not just because the plot itself is difficult to explain–in a totally cool alien way–but the book is actually about so much more than the quirky alien, science-fiction the summary implies.
Yes, the aliens and the sci-fi elements are really important to the book, but it's far more of a contemporary than I was expecting. Which–considering I don't really enjoy a lot of contemporary–I was really surprised by how much I enjoyed this book. There's a lot of Henry's inner thoughts. He's dealing with the loss of his boyfriend, a really toxic relationship, his family kind of falling apart around him, and then on top of all this he's got to decide whether or not to let the world be destroyed. I really liked Henry's character and I thought the things he went through were really well dealt with. You can definitely tell he's depressed, he's suffering from some sort of PTSD, and his (at times sullen/ bitchy) attitude was completely understandable.
We're so used to seeing heroes that go massively out of their way to save the world, it was refreshing to see one who was willing–not to destroy it–but just to let it happen, and because of the what Henry was going through, it didn't seem like he was being malicious or unreasonable. You understood his reasoning. And all the relationships he had were wonderful and complex to–from the awkward best friend to the caring-but-imperfect family to the potential, new boyfriend.
Then the whole thing just felt like a really relatable, really casual slice-of-life that Henry just so happened to be sharing with us. We Are the Ants packs a far more emotional punch than I expected and it was a really fast, enjoyable read.