UNDEAD GIRL GANG
LILY ANDERSON
SERIES: Standalone
REPRESENTATION: Fat Wiccan Mexican/American MC
GENRES/ SUBJECTS: YA, Fantasy/ Paranormal, Mystery
★★★★★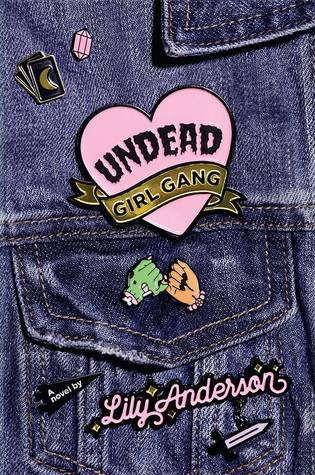 Mila Flores and her best friend Riley have always been inseparable. There's not much excitement in their small town of Cross Creek, so Mila and Riley make their own fun, devoting most of their time to Riley's favorite activity: amateur witchcraft.
So when Riley and two Fairmont Academy mean girls die under suspicious circumstances, Mila refuses to believe everyone's explanation that her BFF was involved in a suicide pact. Instead, armed with a tube of lip gloss and an ancient grimoire, Mila does the unthinkable to uncover the truth: she brings the girls back to life.
Unfortunately, Riley, June, and Dayton have no recollection of their murders, but they do have unfinished business to attend to. Now, with only seven days until the spell wears off and the girls return to their graves, Mila must wrangle the distracted group of undead teens and work fast to discover their murderer…before the killer strikes again.
---
Undead Girl Gang was such a good, enjoyable read! I got through the story so quickly and I could very easily see this making a brilliant movie.
I knew going in that I was going to love all the paranormal, witchcrafty side of it, but I hadn't realised how much I'd enjoy the mystery element and — shockingly —  the high-school cliques etc. because that's really not my thing. Major kudos to Lily Anderson for that.
The real star of Undead Girl Gang is Mila, for a number of reasons. She's a character I've never seen in YA before — fat, brown, Mexican-American and Wiccan. Although I can't speak to the representation, it seemed really well done to me, especially little things Mila noticed and commented on in regards to thin- and white-privilege.
Mila had a wonderful voice. Something about the voice was reminiscent of a slightly older, female Percy Jackson. The smart-arse-ness was nicely balanced out though. She was snarky and angry while also having a vulnerable core. Although she was brass at times, she was never unlikeable — I absolutely adored the dark, gallows humour permeating the whole novel. Reading some of Mila's comments really struck me — there was one in particular about how, once you've built up a certain outward image, you can't really ask people for hugs and comfort; even when you need it — it felt like a personal call out to teenage-me, and I related to her so much. I'm so glad that teens are going to be able to read Undead Girl Gang and see themselves in Mila too.
Undead Girl Gang is a stand-out story and a wonderful summer read.