Judging all from the magazine covers and news programme I've (reluctantly) seen this week, I think it's safe to say (at least here in the U.K.) tomorrow's royal wedding is a big deal. I have a confession… I couldn't care less. However, I'm also a book lover. And I'll take absolutely any opportunity to chat about books. So, in honour of Harry and Meghan, here's a few of my top Queens, Kings and Princesses.
(Summaries from Goodreads.)
Snow, Talia and Danielle // The Princess series by Jim C Hines
Dark fairy tales meets Charlies' Angels.
You know how all those old fairy tales take you through lots of scary adventures till you finally reach that inevitable line: "And they lived happily ever after…" Guess what? It's not true. Life in never-never land isn't all sweetness and light. Cinderella – whose real name is Danielle Whiteshore (nee Danielle de Glas) – does marry Prince Armand. And (if you can ignore the pigeon incident) their wedding is a dream-come-true.
But not long after the "happily ever after," Danielle is attacked by her stepsister Charlotte, who suddenly has all sorts of magic to call upon. And though Talia – otherwise known as Sleeping Beauty – comes to the rescue (she's a martial arts master, and all those fairy blessings make her almost unbeatable), Charlotte gets away.
That's when Danielle discovers a number of disturbing facts: Armand has been kidnapped and taken to the realm of the Fairies; Danielle is pregnant with his child; and the Queen has her very own Secret Service that consists of Talia and Snow (White, of course).
Princess Irene // The Princess and the Goblin by George MacDonald
The first books I can actually remember reading by myself. Irene was my hero.
Princess Irene lives in a castle in a wild and lonely mountainous region. One day she discovers a steep and winding stairway leading to a bewildering labyrinth of unused passages with closed doors – and a further stairway. What lies at the top? Can the ring the princess is given protect her against the lurking menace of the boglins from under the mountain?
Maya and Amar // The Star-Touched Queen by Roshani Chokshi
Maya is cursed. With a horoscope that promises a marriage of death and destruction, she has earned only the scorn and fear of her father's kingdom. Content to follow more scholarly pursuits, her whole world is torn apart when her father, the Raja, arranges a wedding of political convenience to quell outside rebellions. Soon Maya becomes the queen of Akaran and wife of Amar. Neither roles are what she expected: As Akaran's queen, she finds her voice and power. As Amar's wife, she finds something else entirely: Compassion. Protection. Desire… But Akaran has its own secrets—thousands of locked doors, gardens of glass, and a tree that bears memories instead of fruit.
Princess Arianna // The Wish Granter by C.J. Redwine
I found the Ravenspire series a bit hit-and-miss, but I did really enjoy Ari — she's clever, strong-willed and loves cake.
Growing up ignored by the nobility, Ari never wanted to be a proper princess. And when Thad suddenly starts training Ari to take his place, she realizes that her brother's ascension to the throne wasn't fate. It was the work of a Wish Granter named Alistair Teague who tricked Thad into wishing away both the safety of his people and his soul in exchange for the crown.
So Ari recruits the help of Thad's enigmatic new weapons master, Sebastian Vaughn, to teach her how to fight Teague. With secret ties to Teague's criminal empire, Sebastian might just hold the key to discovering Alistair's weaknesses, saving Ari's brother—and herself.
The Sea Queen, Princess Lira and Prince Elian // To Kill a Kingdom by Alexandra Christo
This showcased a whole range of variously morally grey characters and a brilliant outright villain.
Princess Lira is siren royalty and the most lethal of them all. With the hearts of seventeen princes in her collection, she is revered across the sea. Until a twist of fate forces her to kill one of her own. To punish her daughter, the Sea Queen transforms Lira into the one thing they loathe most—a human. Robbed of her song, Lira has until the winter solstice to deliver Prince Elian's heart to the Sea Queen or remain a human forever.
Queen Mina and Princess Lynet // Girls Made of Snow and Glass by Melissa Bashardoust
I loved how different and nuanced the three women in this story were.
Entwining the stories of both Lynet and Mina in the past and present, Girls Made of Snow and Glass traces the relationship of two young women doomed to be rivals from the start. Only one can win all, while the other must lose everything—unless both can find a way to reshape themselves and their story.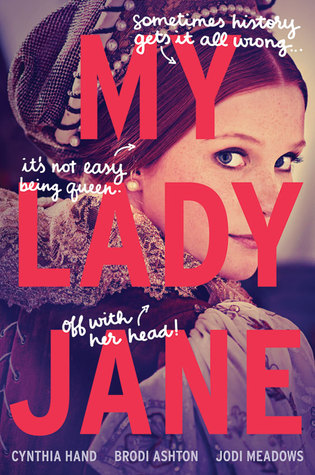 King Edward, Queen Jane and King Gifford // My Lady Jane by Cynthia Hand, Brodi Ashton & Jodi Meadows
Edward (long live the king) is the King of England. He's also dying, which is inconvenient, as he's only sixteen and he'd much rather be planning for his first kiss than considering who will inherit his crown…
Jane (reads too many books) is Edward's cousin, and far more interested in books than romance. Unfortunately for Jane, Edward has arranged to marry her off to secure the line of succession. And there's something a little odd about her intended…