INTO THE DROWNING DEEP
MIRA GRANT
SERIES: ROLLING IN THE DEEP, #1
REPRESENTATION: Bisexual MC, Autistic Lesbian MC, Deaf MCs, MC With Chronic Pain, Asian-Australian MC, English-Hawaiian MC, FF Relationship
GENRES/ SUBJECTS: Science Fiction, Horror, Mermaids
★★★★★
Seven years ago, the Atargatis set off on a voyage to the Mariana Trench to film a "mockumentary" bringing to life ancient sea creatures of legend. It was lost at sea with all hands. Some have called it a hoax; others have called it a maritime tragedy.
Now, a new crew has been assembled. But this time they're not out to entertain. Some seek to validate their life's work. Some seek the greatest hunt of all. Some seek the truth. But for the ambitious young scientist Victoria Stewart this is a voyage to uncover the fate of the sister she lost.
Whatever the truth may be, it will only be found below the waves. But the secrets of the deep come with a price. 
---
aaaaaaaahhh! I loved this book so freaking much!! ALL THE STARS!!
First, it's all about mermaids — which is a trend I'm loving so much at the moment — but also Mira Grant has put such a clever and unique spin on it. Possibly the most original I've seen?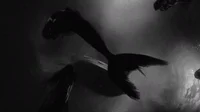 Into the Drowning Deep goes down the science fiction route, looking at mermaids not as a mythical, fantasy creature, but as a newly discovered marine animal… and a vicious predator. I loved this angle. The whole story felt so realistic and plausible, at times I completely forgot I was reading SFF.
The ensemble cast is massive and brilliantly diverse — I've listed the representation as best I remember, but I might easily have missed someone (let me know in the comments). Even though there are loads of characters, they all felt fully rounded out to me. I never got the characters confused or had a character whose POV I wanted to skim. Even the despicable characters had a glimmer or something that made them just relatable enough. Even Jason… whose face I wanted to get eaten off.
Finally, I was so impressed by the atmosphere! The whole book was incredibly written. It had a claustrophobic, pressure-cooker thing going on throughout. I was on the edge of my seat and it felt like no-one was safe. I'll definitely not be booking myself on a cruise anytime soon.