THE FOREVER SONG
JULIE KAGAWA
SERIES: BLOOD OF EDEN, #3
REPRESENTATION: JAPANESE MC
GENRES/ SUBJECTS: YA, PARANORMAL – VAMPIRES, DYSTOPIAN
★★★★☆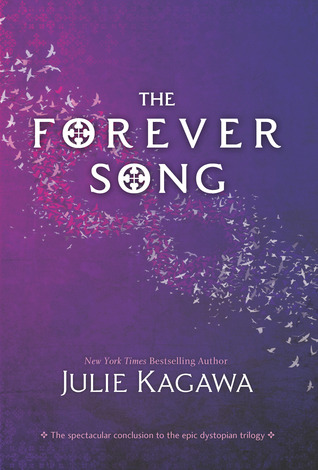 Vengeance will be hers.
Allison Sekemoto once struggled with the question: human or monster? With the death of her love, Zeke, she has her answer.
Monster.
Allie will embrace her cold vampire side to hunt down and end Sarren, the psychopathic vampire who murdered Zeke. But the trail is bloody and long, and Sarren has left many surprises for Allie and her companions – her creator Kanin, and her blood brother, Jackal. The trail is leading straight to the one place they must protect at any cost – the last vampire-free zone on Earth, Eden. And Sarren has one final, brutal shock in store for Allie. 
In a ruined world where no life is sacred and former allies can turn on you in one heartbeat, Allie will face her darkest days. And if she succeeds, her triumph will be short-lived in the face of surviving forever alone.

---
The Forever Song is the final instalment in The Blood of Eden trilogy and I'm really happy to say that I enjoyed it the most of all three books.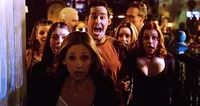 The whole series is very strong, but in the first two, I felt there were a few pacing issues. The Forever Song combines a lot of emotional angst and action-packed battle sequences to keep the plot continually moving. Allison's internal battle to keep her monster under control has always been important in this series and balancing the line between vampire and human, and accepting what that makes her, is central to the first half of The Forever Song. I really liked how the author rounded out and wrapped up this aspect of Allison's story. I loved all the action and that there was not one but two major battle sequences — one at Old Chicago and one at Eden. These were brilliantly written — full of tension and adventure.
And Jackal! I will forever love my snarky little murder-baby and his sibling bickering with Allison on the Vampire Family Roadtrip.
There were two small issues which prevented this being a five-star book for me though. Be warned, both are spoilers… The first was Zeke. He's never been the most exciting character but the dynamic in his relationship with Allison made up for it. In this book, Zeke spends a good chunk of his scene time whining and bitching. Considering how much I loved Allison's practical, no-nonsense attitude to becoming a vampire, Zeke felt like a big letdown. I was also a little confused by Kanin's fate. I mean it made sense for the redemption/dying mentor thing, but it felt kind of pointless when they had the blood to make a proper cure anyway. I'm sure the author explained it, but it just didn't 'stick' for me reading it.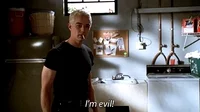 On the whole, though, The Forever Song was a great finale to a strong and original series. I'd recommend The Blood of Eden series to anyone looking for strong protagonists or clever twists on the YA vampire genre.