THE HAZEL WOOD
MELISSA ALBERT
REPRESENTATION: BLACK MC
GENRES/ SUBJECTS: YA, URBAN/ PORTAL FANTASY, DARK FAIRYTALES 
★★★★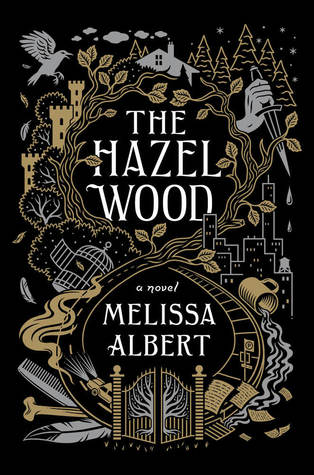 Seventeen-year-old Alice and her mother have spent most of Alice's life on the road, always a step ahead of the uncanny bad luck biting at their heels. But when Alice's grandmother, the reclusive author of a cult-classic book of pitch-dark fairy tales, dies alone on her estate, the Hazel Wood, Alice learns how bad her luck can really get: her mother is stolen away―by a figure who claims to come from the Hinterland, the cruel supernatural world where her grandmother's stories are set. Alice's only lead is the message her mother left behind: "Stay away from the Hazel Wood."
Alice has long steered clear of her grandmother's cultish fans. But now she has no choice but to ally with classmate Ellery Finch, a Hinterland superfan who may have his own reasons for wanting to help her. To retrieve her mother, Alice must venture first to the Hazel Wood, then into the world where her grandmother's tales began―and where she might find out how her own story went so wrong.
---
The Hazel Wood is a twisted look at fairy tales which keep me reading well into the night (and then had me hiding under my duvet).
The atmosphere Albert has managed to weave into The Hazel Wood is brilliantly creepy, especially the part set in 'our' New York. There's a wonderful sense of twisting shadows and things moving at the corner of your eye. It's the perfect read for curling up with under a blanket on a cold night. For me, this atmosphere is The Hazel Wood's biggest strength.
I really appreciated Alice as a protagonist. It's so unusual to find a YA heroine who's relatable but (in a lot of ways) unlikeable, or a female character who's allowed to be angry. On the whole, I was rooting for Alice, although at some points she went too far – calling Finch's ex "some bitch", telling him to "go get a liberal arts degree" and almost crashing their car. For the most part, though, I liked Alice as a protagonist and enjoyed the dynamic between her and Finch.
The main reason that this is a four-star for me and not a five is the final third of the book — the part set in the Hinterland. I'm not sure if it's a problem of pacing or world-building, but this section just felt too disjointed and flat compared to the 'real world' sections. At the climax, where Alice is in the most peril and facing her toughest challenges, it actually felt like there was less tension and danger than in the creepy New York section.