AN ENCHANTMENT OF RAVENS
MARGARET ROGERSON
SERIES: STANDALONE
GENRES/ SUBJECTS: FANTASY, ROMANCE, FAE, YA
★★★★
Isobel is a prodigy portrait artist with a dangerous set of clients: the sinister fair folk, immortal creatures who cannot bake bread, weave cloth, or put a pen to paper without crumbling to dust. They crave human Craft with a terrible thirst, and Isobel's paintings are highly prized among them. But when she receives her first royal patron—Rook, the autumn prince—she makes a terrible mistake. She paints mortal sorrow in his eyes – a weakness that could cost him his life.
Furious and devastated, Rook spirits her away to the autumnlands to stand trial for her crime. Waylaid by the Wild Hunt's ghostly hounds, the tainted influence of the Alder King, and hideous monsters risen from barrow mounds, Isobel and Rook depend on one another for survival. Their alliance blossoms into trust, then love, violating the fair folks' ruthless Good Law. There's only one way to save both their lives, Isobel must drink from the Green Well, whose water will transform her into a fair one—at the cost of her Craft, for immortality is as stagnant as it is timeless.
Isobel has a choice: she can sacrifice her art for a future, or arm herself with paint and canvas against the ancient power of the fairy courts. Because secretly, her Craft represents a threat the fair folk have never faced in all the millennia of their unchanging lives: for the first time, her portraits have the power to make them feel.
---
An Enchantment of Ravens is a bit difficult for me to rate. I'm not really a fan of books where the romance is the main focus and, despite the fantasy scenery, that's what this story boils down too. That said, I did quite enjoy this romance. It did seem to develop from mild interest to I-would-die-for-you incredibly quickly, but I liked Rook and Isobel as a couple so it's easy enough to overlook that.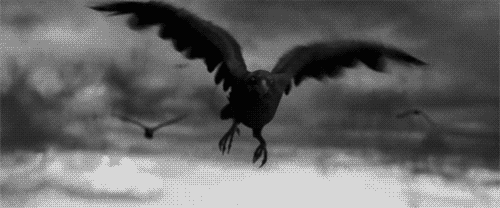 The characters were great. I loved how smart, and driven and practical Isobel is. There's something really down-to-earth and believable about her and I liked her a lot more than, say, Feyre (I've seen a lot of comparisons to A Court of Thorns and Roses — I prefer this). I liked that her art was so important to her and that she didn't want to just throw it (or her family) away for romance. It's nice to see a fantasy heroine with an actual interest/ profession. Rook is adorably charming, especially in his confusion as to how humans work — fretting that Isobel could die of starvation any moment. His show-off, childish nature was nicely balanced by his obvious devotion to Isobel. Gadfly was far more interesting than his initial foppish introduction led me to suspect and I really liked Isobel's family — her Aunt Sarah and goats-turned-sisters March and May.
I felt the plot was a little more simplistic than I'd expected, and I found it a little slow at a couple of points but overall I enjoyed An Enchantment of Ravens. I really liked the world-building put into the fae, their world and how their magic works. I loved the darkness and rot hiding just under the surface. As wonderful as the fae seemed while we were in Whimsy, once Isobel went into their world, they became much darker, more sinister and more frightening than they were charming. Rogerson's writing is beautiful and descriptive, and she really knows how to paint a picture (See what I did there?).