KNOT THE USUAL SUSPECTS
MOLLY MACRAE
SERIES: A HAUNTED YARN SHOP MYSTERY #5
GENRES/ SUBJECTS: CONTEMPORARY, COSY MYSTERY, PARANORMAL-GHOSTS
★★★☆
In the latest from the bestselling author of Plagued by Quilt, Kath Rutledge yarn bombs Blue Plum, Tennessee—and gets tangled up in the mystery of a bumped-off bagpiper.
It's time for Handmade Blue Plum, an annual arts and crafts fair, and Kath and her knitting group TGIF (Thank Goodness It's Fiber) plan to kick off the festivities with a yarn bombing. But they're not the only ones needling Blue Plum. Bagpiper and former resident Hugh McPhee had just returned after a long absence, yet his reception is anything but cozy. The morning after his arrival, he's found dead in full piper's regalia.
Although shaken, Kath and her knitting group go forward with their yarn installation—only to hit a deadly snag. Now, with the help of Geneva, the ghost who haunts her shop, Kath and TGIF need to unravel the mystery before someone else gets kilt!
---
Hmm. I'm a little disappointed right now, to be honest. Two reasons. one, this is the last book in the  Haunted Yarn Shop Mystery series, and I've really loved these books and need at least another five. Second, for the last one in the series, Knot the Usual Suspects just didn't quite live up to the previous four, and it's a little sad it didn't go out on a high note.
Don't get me wrong, the characters are still a lot of fun, the setting still has me daydreaming about living in Blue Plum and I still didn't see the culprit coming….But…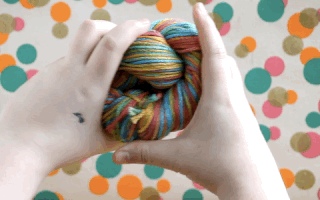 There just seemed to be a lot less immediacy to this mystery and less of an emotional connection. Maybe it's because Kath and the gang are used to tripping over dead bodies now, or maybe the yarn-bombing was just that important to them, but it felt like no one really gave the first murder any real attention. One of the things I liked about this series is that it combines mysteries, ghosts, and crafts, so I don't mind at all that we saw a lot more focus on the town craft festival in this book, but it just felt odd that the characters didn't really seem motivated until a second body showed up.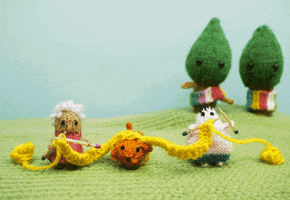 Either way, I've loved this quaint, cozy mystery series and I definitely recommend the whole series as a perfect autumn/winter read.