A WRINKLE IN TIME
MADELEINE L'ENGLE
SERIES: TIME QUINTET, #1
GENRES/ SUBJECTS: MG, FANTASY, SCIENCE-FICTION, CLASSICS
★★★
It was a dark and stormy night; Meg Murry, her small brother Charles Wallace, and her mother had come down to the kitchen for a midnight snack when they were upset by the arrival of a most disturbing stranger. "Wild nights are my glory," the unearthly stranger told them. "I just got caught in a downdraft and blown off course. Let me be on my way. Speaking of way, by the way, there is such a thing as a tesseract". Meg's father had been experimenting with this fifth dimension of time travel when he mysteriously disappeared. Now the time has come for Meg, her friend Calvin, and Charles Wallace to rescue him. But can they outwit the forces of evil they will encounter on their heart-stopping journey through space?
---
A Wrinkle in Time is one of those books I've been meaning to read forever, but just never gotten around to. Between the upcoming film adaption (which looks stunning) and the book fitting a prompt for #TheReadingQuest challenge, now seemed like the perfect time to give it a go.
A Wrinkle in Time was a great adventure with wonderful scope, showing how big the universe is, and how small that can make us feel. I can definitely see why this is a book that would be chosen for the glamorous, stylised visuals that the adaption looks like it will have.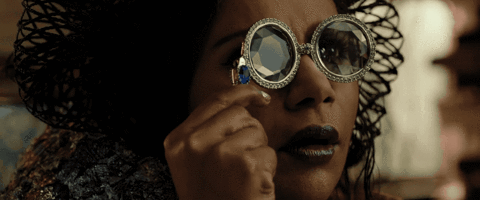 My favourite thing about this story though wasn't the strange new planets or the otherworldly creatures the children encounter, but the Murry family (and Calvin) themselves. I loved the scene at the start with Mrs Murry and how supportive she was of all her children, encouraging them all to be the best they could be even though they were all very different. Charles Wallace was adorably precocious and I wanted to give him a hug a few times — him making the midnight snack sandwiches was so cute. I loved Meg and her utter devotion to saving her father and brother, and that although she often felt overshadowed by the others, when she realised she was the best person for a task, she gave it her all. Overall, I just really enjoyed the family dynamic in the book, especially the brother-sister relationship. It's something often overlooked in favour of orphan heroes and romantic interests.
My gripes with A Wrinkle in Time were all minor. It was more simplistic than I was expecting as I've seen it referred to a few times as YA, but this is definitely a middle-grade a story. Also, some of the tropes felt a little cheesy but that might just be because the story is a bit older (1962) and have been used a lot since. Personally, I wasn't a fan of the religious overtones but I'm sure younger readers would be too lost in the adventure to even notice.