LAMBS CAN ALWAYS BECOME LIONS
CHARLOTTE ANNE HAMILTON
SERIES: UNTIL LAMBS BECOME LIONS, #1
GENRES/ SUBJECTS: HISTORICAL, ROMANCE, RETELLING, QUEER (F/F)
★★★★
Robin Hood, along with her group of friends, has been aiding the poor of Nottingham for four years. They have become an hindrance to the Sheriff of Nottingham, terrorising the rich lords and ladies and robbing gold right from under the Sheriff's nose.
Helping Robin from inside, and proving her most useful ally, is Lady Marian Fitzwalter.
After hearing about a special shipment coming through Sherwood – filled with gold, jewels and weapons – Marian agrees to help Robin gather information so she can ambush it. It is risky and dangerous on both sides but Marian would do anything for Robin. And Robin would do anything to feed her people.
But as the shipment draws closer and tensions rise, Robin finds herself having to decide which is more important: love or duty.
---
Lambs Can Always Become Lions is a debut novella with a lot of promise. You can really tell while reading that the author has given this story her all.
The plot is pretty straightforward for a Robin Hood adaption — Robin and the gang, Marian in peril, an archery contest, Robin in disguise and a face-off with the Sheriff of Nottingham — but it's well done. The story moves quickly and kept me turning the pages. Hamilton's real strength is her characters though. Not only has she created a really diverse cast — including a f/f relationship, an NB character, an asexual man and a Muslim woman — she manages to create a lot of personality in a few pages. Robin and Marian especially, are fully-realised and relatable protagonists. It's nice to see Marian particularly taking an active lead in the story.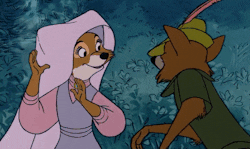 There were a few awkward sentences and a couple of overly modern phrases in places but the plot and characters carried any weaknesses in the writing. I'm sure this will be even tighter in the sequel and I can't wait to read more about Robin, Marian and the gang.