THE DARK PROPHECY
RICK RIORDAN
SERIES: THE TRAILS OF APOLLO, #2
GENRES/ SUBJECTS: YA, FANTASY, MYTHOLOGY, BISEXUAL MC
★★★★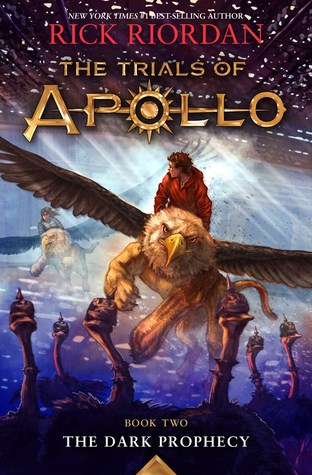 Zeus has punished his son Apollo—god of the sun, music, archery, poetry, and more—by casting him down to earth in the form of a gawky, acne-covered sixteen-year-old mortal named Lester. The only way Apollo can reclaim his rightful place on Mount Olympus is by restoring several Oracles that have gone dark. What is affecting the Oracles, and how can Apollo do anything about them without his powers?
After experiencing a series of dangerous—and frankly, humiliating—trials at Camp Half-Blood, Apollo must now leave the relative safety of the demigod training ground and embark on a hair-raising journey across North America. Fortunately, what he lacks in godly graces he's gaining in new friendships—with heroes who will be very familiar to fans of the Percy Jackson and the Olympians and Heroes of Olympus series. Come along for what promises to be a harrowing, hilarious, and haiku-filled ride. . . .
---
Okay, honesty here – any Rick Riordan book is always going to be a hit with me, it's just a matter of degrees. I think The Dark Prophecy is another great instalment, although I didn't love it quite as much as I've enjoyed the Magnus Chase books, the other Riordan series in progress at the moment.
The plot is a total ride. When it's not fighting scenes and action-packed chases, we're meeting new characters and seeing some really cool new locations. The entire book takes place any from Camp Halfblood so there's little downtime as our heroes set off on their quest to fulfil the prophecy from the last book.
That said, there's still character development, especially Apollo, who — although still self-absorbed and arrogant — has grown a lot during this instalment. We get to see some cameo appearances from Greek mythology and learn more about Apollo's past. He's still not my favourite of Riordan's protagonists but he's growing on me more and more. There are some great new characters introduced and — as well as Apollo and his friend-and-master Meg — a few other faces from the previous series' make an appearance too.
I don't think this book would be the best one to start the Halfblood universe with, but it's a solid instalment and I don't think you'd need to have read the others to catch on.